»

Recipes

»

Asian

»

Kofta

»

Cabbage Kofta Curry
Cabbage Kofta Curry Recipe
Would you like to try Cabbage Kofta Curry at home? This Cabbage Kofta Curry recipe is just the way it is prepared in Indian homes. This is a traditional recipe from Mughlai Cuisine. Cabbage Kofta Curry is a very delicious Indian curry . It is included as a main dish in Indian lunch and dinner menu . Cabbage Kofta Curry goes well with pulao , but it can also be eaten with plain rice or nan . Cook, share and enjoy this Cabbage Kofta Curry recipe.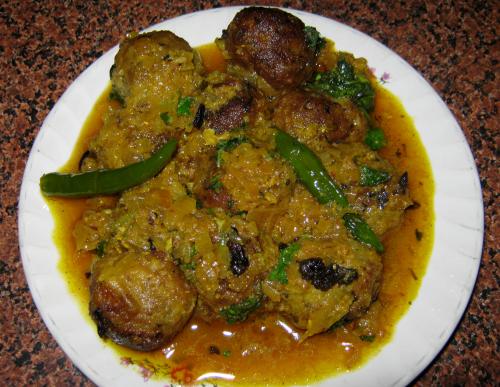 Ingredients
Cabbage

1 Small

Potato

3 Medium

, cut into four pieces

Ginger

1 1⁄2 Inch

, made into paste

Turmeric powder

1 Teaspoon

Red chili powder

1 1⁄2 Teaspoon

Coriander powder

1 1⁄2 Teaspoon

Cumin powder

1 1⁄2 Teaspoon

Bay leaf

2

Salt

To Taste

Sugar

1 Teaspoon

Gram flour

1 Tablespoon

(Adjust Amount If Needed)

Chopped tomato

2 Small

Cooking oil

6 Tablespoon

Green chili

4

, chopped

Ghee

1 Teaspoon

(Optional)

Garam masala

To Taste

(Optional)
Nutrition Facts
Serving size
Calories 373 Calories from Fat 223
% Daily Value*
Total Fat 25 g38.9%
Saturated Fat 4.2 g20.8%
Trans Fat 0 g
Cholesterol 3.4 mg
Sodium 136.8 mg5.7%
Total Carbohydrates 35 g11.8%
Dietary Fiber 6.7 g27%
Sugars 5.2 g
Protein 5 g10.5%
Vitamin A 5.9% Vitamin C 125%
Calcium 7.7% Iron 17.4%
*Based on a 2000 Calorie diet
Directions
1. Cut cabbage into small slices and boil. Drain water and allow to cool.

2. Add half of ginger paste, 1/2 tsp turmeric powder, 1/2 tsp each of coriander, cumin and red chili powder, salt, sugar, two green chili chopped and besan as reqd. to the boiled cabbage and mix thoroughly. Make into small round shaped balls. Mix salt and little turmeric powder to the potato pieces.

3. Heat 4 tablespoon oil and deep fry the cabbage balls. Deep fry the potatoes. Keep aside.

4. Heat 2 tablespoon oil add 1/2 tsp whole cumin seeds and bay leaf. Fry for 30 seconds. Add rest of the spices mixed in little water. Add chopped green chili. Cook for a minute and add chopped tomatoes and cook till well fried and good flavor of spice comes out.

5. Add about two cups water and fried potatoes. Bring to boil. Cook till potatoes are well cooked.

6. Add cabbage koftas and boil in low heat for about a minute. Serve hot with rice or paratha. May add ghee and garam masala to make it more tastier.

tulip says :
Looking at the delicious recipe i decided to give it a try and guess what ... it came out so well and became an instant hit at home and everyone relished it.
Posted on:
21 April 2008 - 3:05pm

Indian curries are famous for its taste . This recipe is also looking very delicious. I will try this recipe soon.
Posted on:
9 January 2008 - 12:32pm