»

Recipes

»

Cookie

»

Meringue

»

Butterscotch Meringue Pie
Butterscotch Meringue Pie Recipe
The taste of this particular Butterscotch Meringue Pie has taken over my tastebuds!!! This Butterscotch Meringue Pie is served as a Dessert and is definitely going to win you some appreciation!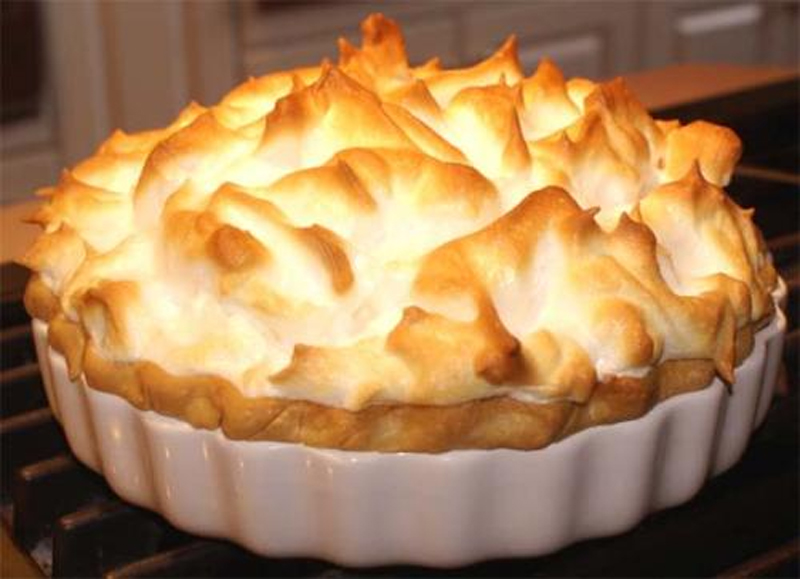 Ingredients
Brown sugar

1 Cup (16 tbs)

Flour

1⁄2 Cup (8 tbs)

Salt

1⁄2 Teaspoon

Milk

2 Cup (32 tbs)

, scalded

Eggs

3 Small

, separated

Butter

3 Tablespoon

Vanilla

1 Teaspoon

Baked pastry shell

1

Sugar

1⁄4 Cup (4 tbs)
Nutrition Facts
Serving size: Complete recipe
Calories 3078 Calories from Fat 560
% Daily Value*
Total Fat 141 g216.5%
Saturated Fat 35.2 g175.9%
Trans Fat 0 g
Cholesterol 624.1 mg
Sodium 1316 mg54.8%
Total Carbohydrates 426 g142%
Dietary Fiber 1.7 g6.8%
Sugars 275.4 g
Protein 52 g103.8%
Vitamin A 42.8% Vitamin C
Calcium 59.3% Iron 28.6%
*Based on a 2000 Calorie diet
Directions
MAKING
1) In the top of a double boiler, and slowly add in the milk.
2) Mix together the brown sugar, flour, and salt
3) Stirring constantly, cook till thick.
4) Take off from the heat.
5) Stir in small amount of the hot mix into the beaten egg yolks add back into the hot mix.
6) Place the boiler back on the heat and while stirring, continue cooking for another 2 minutes.
7) Add in the butter and vanilla.
8) Transfer the filling into the pastry shell.
9) In a bowl, add the egg whites and beat till stiff.
10) Slowly beat in the sugar.
11) Spread the meringue over the pie filling and seal to the edge of the shell.
12) Place in the oven at 350 degrees and bake for 12 minutes, till the meringue is browned.

SERVING
13) Top with cream and serve.