»

Recipes

»

Mix

»

Cake Mix

»

Buttermilk Pancake & Cake Mix
Buttermilk Pancake & Cake Mix Recipe
This Buttermilk Pancakes & Cake Mix recipe gives me an enormous sense of comfort and support. An incredibly easy and thoughtful gift is to assemble a canister of this mix and give it to a friend or family member, who loves pancakes. And, check often for recipes that will show you how to use this same dry mix to bake a generous batch of chocolate or vanilla cupcakes, or tender and delicious layer cakes, for one of your children's birthday parties.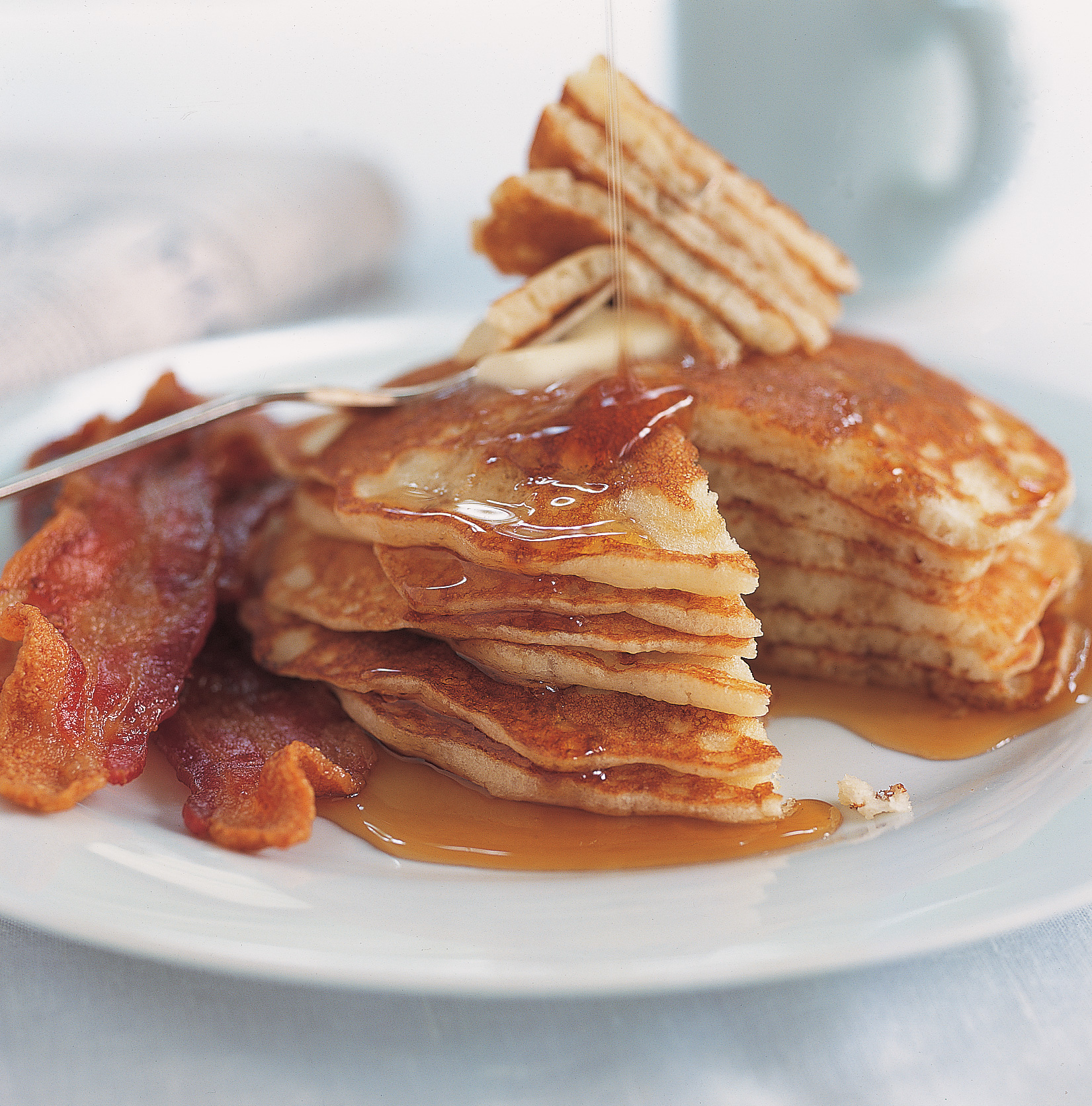 Ingredients
Plain cake flour

14 Cup (224 tbs)

(not self-rising)

Baking powder

6 Tablespoon

Baking soda

5 Teaspoon

Salt

4 Teaspoon

Sugar

18 Tablespoon

Buttermilk pancake mix

1 1⁄2 Cup (24 tbs)

Buttermilk

1 1⁄4 Cup (20 tbs)

Egg

1 Large

Flavorless vegetable oil

2 Tablespoon

(plus more for brushing)

Water

3 Tablespoon

Melted unsalted butter

2 Tablespoon

, cooled to just warm
Nutrition Facts
Serving size: Complete recipe
Calories 8947 Calories from Fat 700
% Daily Value*
Total Fat 80 g123.6%
Saturated Fat 23.1 g115.4%
Trans Fat 0 g
Cholesterol 276 mg
Sodium 25480.4 mg1061.7%
Total Carbohydrates 1847 g615.6%
Dietary Fiber 37.6 g150.4%
Sugars 306.2 g
Protein 192 g384.2%
Vitamin A 19.9% Vitamin C
Calcium 767.9% Iron 834.9%
*Based on a 2000 Calorie diet
Things You Will Need
Triple-mesh wire sieve
Batter whisk or a wide blending fork
Electric griddle (optional but helpful for maintaining correct temperature for cooking pancakes)
Directions
To assemble the mix, use a whisk to thoroughly combine the flour, baking powder, baking soda, salt and sugar in an extra-large mixing bowl. Sift this into another large bowl of equal capacity. Whisk again thoroughly, then spoon the mix into a 5-pound capacity canister, with a tight-fitting lid. Store the canister on a cool dry pantry shelf.

Buttermilk Pancakes...With or Without Berries

If you like pancakes, you'll adore these. Tender and truly ethereal, I can't count how many times I've made them and each time I hear the same words from those at the table: "These are the best pancakes I've ever had." And feel free to use this same size batter to make three crisp standard-size waffles, using a half cup of batter for each. This could vary, though, depending on your particular appliance. I've written this recipe requiring the use of buttermilk, since, hands-down, buttermilk makes the best-tasting pancakes with the lightest, most tender texture. If you don't always have liquid buttermilk in the house, I suggest keeping a supply of dry buttermilk in your pantry, so you can just reconstitute it. This recipe doubles perfectly. Any time I've suggested a tool, a piece of equipment, or a culinary term that's unfamiliar to you, you can go to Kitchen Management for more information.

For Pancakes:
1) To assemble the batter: Place 1 1/2 cups of the prepared pancake mix into a bowl. In another bowl, combine the buttermilk, egg, vegetable oil, water and melted butter. Gently stir the wet ingredients into the pancake mix, using a batter whisk or a wide blending fork, until thoroughly mixed, being careful not to overwork the batter.

2) To cook your pancakes: heat a nonstick griddle or a large nonstick skillet and, when hot, brush the surface lightly with vegetable oil. When the oil is hot, pour or ladle several 1/4 cup portions of batter onto the hot surface, leaving 1-inch of space between them and, if desired, scatter several of fresh blueberries on top and cook over medium-high heat, until bubbles appear on the surface, 1 to 2 minutes. Using a thin wide spatula, flip each pancake over and cook on the other side, until golden, about 1 minute. Remove the pancakes to a warmed platter and repeat with the remaining batter. Serve pancakes immediately after the cooking, in individual stacks, with softened butter and warmed pure maple syrup.
If you don't have the pre-assembled pancake mix:
Per each batch of pancakes, whisk together 1 1/2 cups plain cake flour, 2 teaspoons baking powder, 1/2 teaspoon baking soda, 1/3 teaspoon salt and 1 tablespoon plus 1 teaspoon sugar. Sift this into another bowl and continue with the recipe above.

Timing is Everything: For pancakes on busy weekday mornings, do this:
• The night before: Combine all of the wet ingredients except the melted butter and refrigerate the mixture, well covered. Measure your dry mix and place it in a covered bowl on your counter. Put your griddle on a turned off burner and put a small covered bowl containing a little vegetable oil next to the stove, with a pastry brush.
• In the morning: Remove the wet ingredients from the refrigerator. Melt the butter and, when just warm, add it to the buttermilk mixture. Combine the wet and dry ingredients, using a batter whisk (be gentle, but no dry pockets should remain). Leave the bowl of batter covered, at room temperature, until you're ready to cook. When ready, ladle the batter onto a hot, greased griddle, as directed.

This looks great. I am definitely going to try it this weekend. Thanks!
Posted on:
14 September 2007 - 1:49am

I love thin pancakes and these let delightful!
Posted on:
12 September 2007 - 11:56am

Hi..you will love these, i promise! My family won't eat pancakes any place else (and, if you go to my website (www.LaurenGroveman.com) and look on the media page (scroll down) and you can see me on MSNBC (the fathers day segment) ..i'm making the pancakes. Thanks for being in touch!
Posted on:
12 September 2007 - 12:00pm