»

Recipes

»

Cake

»

Buttermilk Pound Cake
Buttermilk Pound Cake Recipe
Buttermilk Pound Cake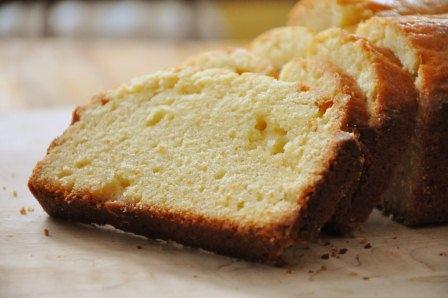 Summary
Preparation Time
5 Min
Cooking Time
1 Hr 0 Min
Ready In
1 Hr 5 Min
Difficulty Level
Easy
Health Index
Healthy
Servings
4
Ingredients
Butter

1⁄2 Cup (8 tbs)

Shortening

1⁄2 Cup (8 tbs)

Sugar

3 Cup (48 tbs)

Eggs

5

Flour

3 Cup (48 tbs)

Buttermilk

1 Cup (16 tbs)

Vanilla extract

1 Tablespoon

Baking soda

1⁄2 Teaspoon

, dissolved in 1 tbsp. boiling water

Boiling water

1 Tablespoon
Nutrition Facts
Serving size
Calories 1475 Calories from Fat 494
% Daily Value*
Total Fat 56 g86.1%
Saturated Fat 22.9 g114.7%
Trans Fat 3.4 g
Cholesterol 324.8 mg
Sodium 265 mg11%
Total Carbohydrates 225 g75%
Dietary Fiber 2.5 g10.1%
Sugars 151.1 g
Protein 20 g40.1%
Vitamin A 20.1% Vitamin C
Calcium 5.6% Iron 30.8%
*Based on a 2000 Calorie diet
Directions
GETTING READY
1) Preheat the oven to 350°F

MAKING
2) Cream butter, shortening and sugar, Add eggs, one at a time and beat well.
3) Add flour and buttermilk, and then add vanilla and soda.
4) Pour into greased and floured Bundt pan.
5) Bake for about a hour at 350°F.

SERVING
6) Serve hot.