»

Recipes

»

Asian

»

Butterfly Prawns With Basil
Butterfly Prawns with Basil Recipe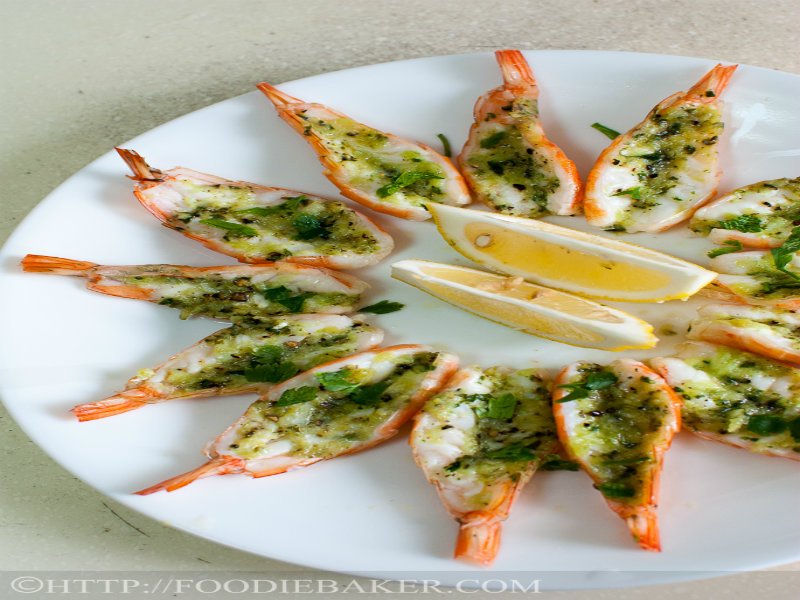 Ingredients
King prawn in shells

1 Pound

(Uncooked, 500 Gram)

Salad leaves

6 Ounce

(175 Gram, E.G. Frise, Lambs' Lettuce, Rocket, Batavia)

Cherry tomatoes

4 Ounce

, halved (125 Gram)

Basil sprigs

2

, leaves removed from stems and roughly torn (Fresh)

Mayonnaise

1 Tablespoon

(For Serving)

For marinade

Lemon juice

3 Tablespoon

Light olive oil

3 Tablespoon

Garlic

1⁄2 Clove (2.5 gm)

, crushed

Chopped fresh basil

1 Tablespoon

Salt

To Taste

Pepper

To Taste
Nutrition Facts
Serving size
Calories 152 Calories from Fat 91
% Daily Value*
Total Fat 10 g15.7%
Saturated Fat 1.5 g7.3%
Trans Fat 0 g
Cholesterol 1.8 mg0.6%
Sodium 90.6 mg3.8%
Total Carbohydrates 4 g1.3%
Dietary Fiber 1.3 g5.1%
Sugars 1.6 g
Protein 12 g24.2%
Vitamin A 37.3% Vitamin C 29.2%
Calcium 5.6% Iron 5.7%
*Based on a 2000 Calorie diet
Directions
GETTING READY
1. Preheat grill to 350 degrees C.

MAKING
2. Prepare the prawns by removing their heads, cutting them lengthwise with the help of scissors or a small knife almost in halves retaining the tail intact.
3. In a large shallow dish place them in a single layer and keep aside.
4. Make marinade in a small bowl by mixing lemon juice, light olive oil, crushed garlic, chopped basil, salt and pepper and pour over the prawns.
5. Cover the dish and let it marinate for about 1 hour turning the prawns occasionally.
6. On a rack over a grill pan arrange the prawns in a single layer and cook in the preheated grill for about 3-4 minutes such that the prawns curl or butterfly and turn bright pink in color.

SERVING
7. On a serving platter or individual plates spread salad leaves and cherry tomatoes and scatter torn basil leaves.
8. On the salad arrange the hot butterfly prawns and serve.
Image Courtesy :
http://www.flickr.com/photos/foodiebaker/8524853832/