»

Recipes

»

Chicken
Butter Chicken Recipe
The butter chicken is a microwave cooked chicken preparation made with butter and curd base. Prepared in the microwave with ginger, garlic, red chili powder and garam masala and tomato puree, butter chicken can be served with rice or roti.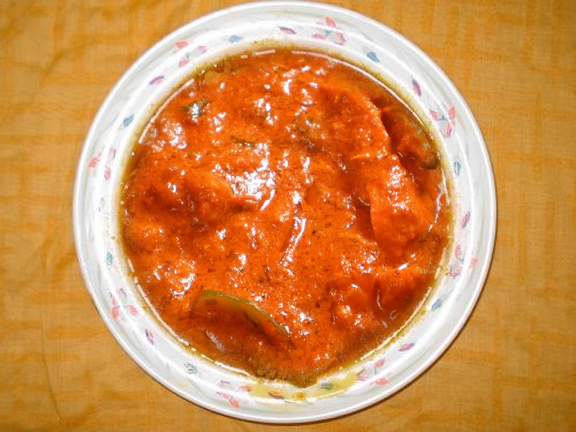 Ingredients
Chicken breast fillets

500 Gram

, cut into 4 pieces

Thick curd

100 Gram

, lightly beaten

Butter

50 Gram

Ginger paste

1 Teaspoon

Garlic paste

1 Teaspoon

Red chilli powder

1 Teaspoon

Garam masala powder

1 Teaspoon

Tomato puree

100 Gram

Salt

To Taste

Lemon

1⁄2

, juiced

Fresh cream

65 Milliliter

Green cardamoms

4

, crushed

Cloves

4

Cinnamon stick

1
Nutrition Facts
Serving size: Complete recipe
Calories 1342 Calories from Fat 574
% Daily Value*
Total Fat 64 g99.1%
Saturated Fat 30.3 g151.4%
Trans Fat 0 g
Cholesterol 125.1 mg41.7%
Sodium 814.8 mg34%
Total Carbohydrates 78 g25.9%
Dietary Fiber 7 g28.1%
Sugars 32.9 g
Protein 119 g238.7%
Vitamin A 71.4% Vitamin C 63.4%
Calcium 41.2% Iron 18.4%
*Based on a 2000 Calorie diet
Directions
Prick the chicken pieces all over with a fork knife.
Rub well the chicken pieces with salt, red chilli powder, garam masala powder and lemon juice and keep aside for 30 minutes.
Mix the marinated chicken pieces with lightly beaten curd.
Cover and marinate in the refrigerator for 3-4 hours.
Heat the butter in a 1.5 litre deep dish on 100% power for 40 seconds.
Add the green cardamoms, cinnamon and cloves and microwave on 100% power for 30 sec.
Add the tomato puree, salt, red chilli powder and garam masala powder.
Mix and microwave on 100% power for 3 minutes.
Add the marinated chicken pieces along with the marinade and microwave partially covered on 100% power for 5 min.
Stir 2-3 times during cooking.
Mix in the cream and microwave on 60% power for 2 minutes. Stir.
Allow standing covered with an aluminum foil for 15 min.before serving.