»

Recipes

»

Fruit

»

Busy Day Blueberry Crisp
Busy Day Blueberry Crisp Recipe
Busy Day Blueberry Crisp is something you can prepare in a jiffy. All that you require is 3 ingredients to prepare this yummy brew. Just check out the recipe of Busy Day Blueberry Crisp listed here.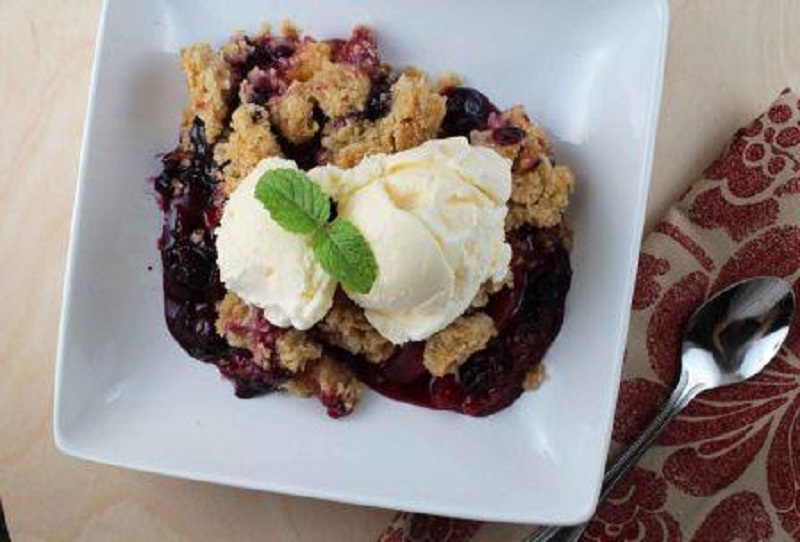 Ingredients
White cake mix

18 1⁄4 Ounce

(1 Package)

Butter

1⁄4 Pound

Blueberry pie filling

1 Can (10 oz)
Nutrition Facts
Serving size: Complete recipe
Calories 3066 Calories from Fat 988
% Daily Value*
Total Fat 110 g169.2%
Saturated Fat 70.3 g351.3%
Trans Fat 0 g
Cholesterol 243.8 mg
Sodium 3662.5 mg152.6%
Total Carbohydrates 503 g167.8%
Dietary Fiber 3.3 g13.3%
Sugars 276.1 g
Protein 25 g49.9%
Vitamin A 56.7% Vitamin C
Calcium 50.7% Iron 0.13%
*Based on a 2000 Calorie diet
Directions
Pour pie filling into 9-inch square baking pan.
Top with dry cake mix.
Cut butter in very thin slices and insert in cake at intervals.
Bake in 350 F oven until crisp, about 35 to 45 minutes.