»

Recipes

»

Cake

»

Bundt Cake
Bundt Cake Recipe
Are you looking for simple way to make Bundt Cake? This recipe is perfect for you. This is a kid friendly recipe. Bundt Cake is a very popular Italian dessert. It is generally made on Christmas. This recipe makes your Christmas celebrations more delicious. Cook, Share and enjoys this Bundt Cake recipe.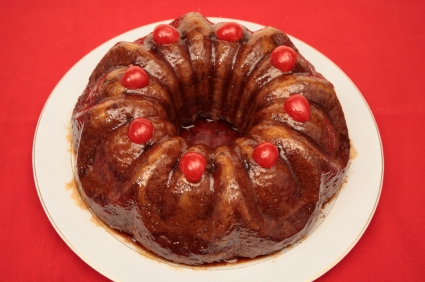 Ingredients
Plain cake mix/Pudding cake mix of any flavor

18 Ounce

Eggs

4

Oil

1⁄2 Cup (8 tbs)

(your favorite)

Pudding

5 Ounce

(1 box)
Nutrition Facts
Serving size
Calories 1110 Calories from Fat 464
% Daily Value*
Total Fat 52 g79.3%
Saturated Fat 11.2 g55.8%
Trans Fat 0 g
Cholesterol 282 mg
Sodium 1281.9 mg53.4%
Total Carbohydrates 147 g49.1%
Dietary Fiber 0.83 g3.3%
Sugars 77.4 g
Protein 18 g35.1%
Vitamin A 14.8% Vitamin C
Calcium 19.7% Iron 8.9%
*Based on a 2000 Calorie diet
Directions
1.Mix all ingredients together

2.Put in greased and floured bundt pan.

3.Bake at 325 degrees fareinhite for 30 minutes.
What makes the icing for the cake?
Posted on:
2 December 2012 - 4:52pm