»

Recipes

»

Soup

»

Bulgur Lentil Soup
Bulgur Lentil Soup Recipe
Looks like the flu is going everywhere! Hope everyone is staying healthy. But, when we are sick, we crave some comfort food. Nothing tastes any better than a good soup when you're under the weather .This filling soup is perfect to warm you on a cold day. It's healthy and low fat.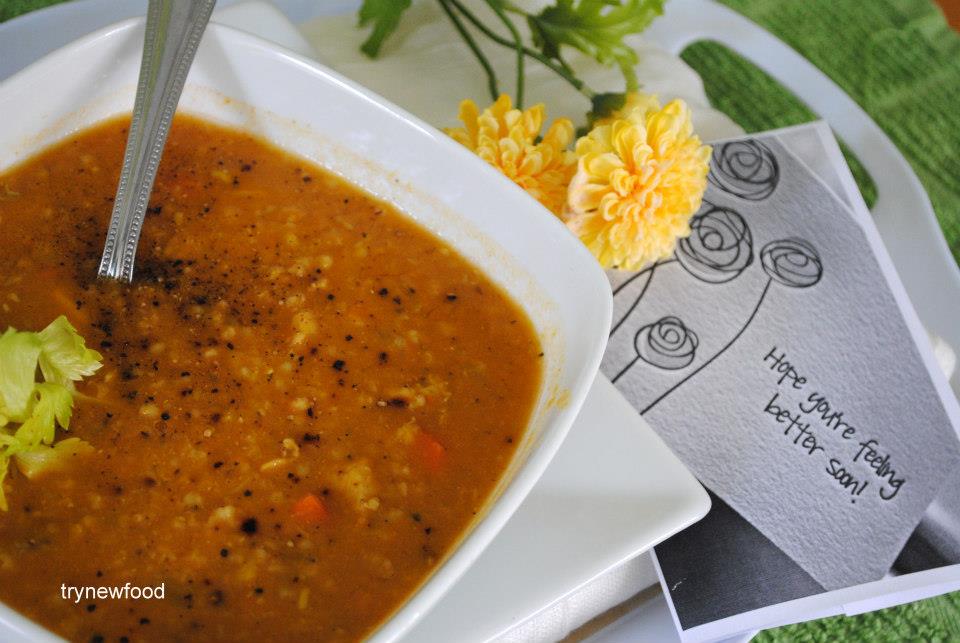 Ingredients
Bulgar

1 Cup (16 tbs)

Lentils

1 Cup (16 tbs)

Chicken/Tofu

1 Cup (16 tbs)

, diced

Onion

1

Ginger

1 Teaspoon

Garlic

1 Teaspoon

Carrots

1⁄2 Cup (8 tbs)

Celery

1⁄2 Cup (8 tbs)

Tomato sauce

1 Cup (16 tbs)

Tumeric

1⁄2 Teaspoon

Coriander powder

1 Teaspoon

Garam masala

1⁄2 Teaspoon

Black pepper

To Taste

Salt

To Taste

Oil

2 Tablespoon
Nutrition Facts
Serving size
Calories 1123 Calories from Fat 455
% Daily Value*
Total Fat 51 g77.9%
Saturated Fat 13.1 g65.3%
Trans Fat 0 g
Cholesterol 251.2 mg
Sodium 400.7 mg16.7%
Total Carbohydrates 70 g23.5%
Dietary Fiber 24.7 g98.7%
Sugars 6.8 g
Protein 95 g189.8%
Vitamin A 69.3% Vitamin C 24.5%
Calcium 13% Iron 47.6%
*Based on a 2000 Calorie diet
Directions
Getting Ready:
1. Cook the Bulgur wheat and lentils in a pressure cooker with 6 cups of water until it softens.
2. In another pan, Heat the oil and add the onion. Stir for a couple of minutes.

Making:
1. Add the ginger and garlic, and saute for another two minutes.
2. Add coriander powder, black pepper, turmeric powder, and garam masala. Saute for one minute.
3. Then add the cubed chicken/tofu/celery, carrots and salt. Saute for another couple minutes.
4. Add this mixture to bulgur and lentil. Also add the tomato sauce. Check the salt and the consistency and make sure it's to your liking. Cook until the chicken and vegetables soften.

Serving:
1. Serve hot with black pepper, cilantro, or parsley sprinkled on top.
2. Enjoy!