»

Recipes

»

Chicken

»

Buffalo Style Chicken Wings
Buffalo Style Chicken Wings Recipe
Buffalo Style Chicken Wings are golden and tender chicken wing with hot pepper mixture. You can have the hot and spicy buffalo wings at home any time with this quick and easy recipe. Serve this awesome dish with blue cheese and enjoy it with your beer.
Chicken Wings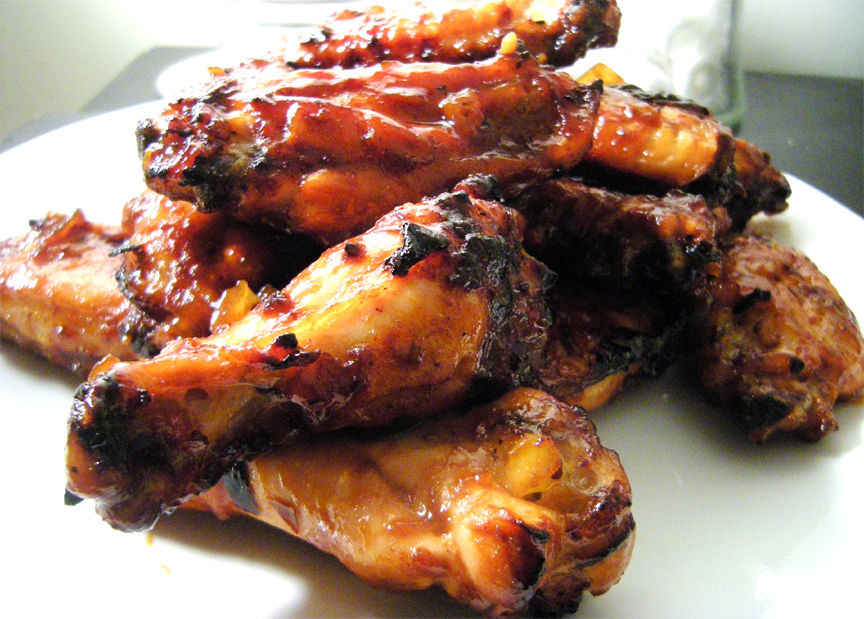 Ingredients
Sour cream

8 Ounce

(1 Container)

Blue cheese

4 Ounce

, crumbled (1 Package)

Chopped parsley

1⁄4 Cup (4 tbs)

Mayonnaise

1⁄4 Cup (4 tbs)

Milk

1 Tablespoon

Lemon juice

1 Tablespoon

Salt

To Taste

Butter/Margarine

6 Tablespoon

Pepper sauce

2 Tablespoon

Chicken wings

3 Pound

Celery

1 Bunch (100 gm)

, cut into sticks
Nutrition Facts
Serving size: Complete recipe
Calories 3632 Calories from Fat 2151
% Daily Value*
Total Fat 242 g373%
Saturated Fat 110.6 g552.8%
Trans Fat 1 g
Cholesterol 1213 mg
Sodium 4906.2 mg204.4%
Total Carbohydrates 19 g6.4%
Dietary Fiber 2.1 g8.5%
Sugars 12.3 g
Protein 330 g660.7%
Vitamin A 138.5% Vitamin C 74.1%
Calcium 112% Iron 75.3%
*Based on a 2000 Calorie diet
Directions
1. Preheat broiler if manufacturer directs. Meanwhile, in medium-sized bowl, mix sour cream, blue cheese, parsley, mayonnaise, milk, lemon juice, and 1/4 teaspoon salt. Cover and refrigerate.
2. In small saucepan over low heat, heat butter or margarine and hot-pepper sauce, stirring occasionally, until butter or margarine melts.
3. In broiling pan, arrange chicken wings; lightly sprinkle with salt; brush with some hot-pepper mixture. Broil wings 10 minutes. Turn wings; brush with remaining hot-pepper mixture; broil 10 to 15 minutes longer, until wings are golden and tender.