»

Recipes

»

Buenos Dias Squares
Buenos Dias Squares Recipe
Buenos Dias Squares is delicious dish made from vegetables eggs cheese butter.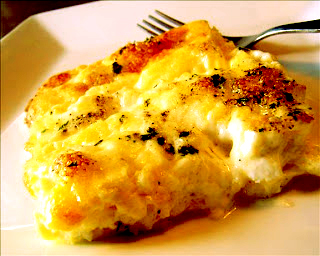 Summary
Preparation Time
10 Min
Cooking Time
40 Min
Ready In
50 Min
Difficulty Level
Easy
Health Index
Average
Servings
6
Ingredients
Baking powder

1 Teaspoon

Salt

1⁄2 Teaspoon

Eggs

6

Shredded low fat cheddar cheese

1⁄2 Cup (8 tbs)

Chopped green chilies

4 Ounce

Chopped red pepper

1⁄2 Cup (8 tbs)

Butter

2 Tablespoon

, melted

Chopped cilantro/Parsley

1 Tablespoon

Chopped onion salsa

1 Tablespoon
Nutrition Facts
Serving size
Calories 142 Calories from Fat 89
% Daily Value*
Total Fat 10 g15.3%
Saturated Fat 4.7 g23.3%
Trans Fat 0 g
Cholesterol 224.8 mg
Sodium 387.7 mg16.2%
Total Carbohydrates 4 g1.2%
Dietary Fiber 0.62 g2.5%
Sugars 2.1 g
Protein 10 g19.7%
Vitamin A 23.7% Vitamin C 104.2%
Calcium 14.7% Iron 7.8%
*Based on a 2000 Calorie diet
Directions
In large bowl, stir together baking powder and salt, if desired. Add eggs beat until blended. Stir in remaining ingredients. Pour into greased 9-inch baking dish.

Bake in preheated 350ºF oven until knife inserted near center comes out clean, about 30 to 35 minutes. Let stand 5 minutes before serving.

Cut into 6 (2-inch x 4-inch) pieces. Serve with salsa, if desired.