»

Recipes

»

Wheat

»

Buckwheat Pancakes
Buckwheat Pancakes Recipe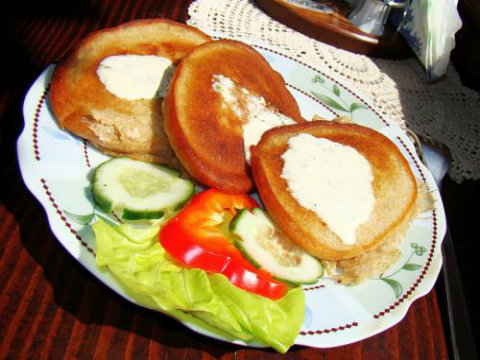 Ingredients
Buckwheat flour

3⁄4 Cup (12 tbs)

All purpose flour

3⁄4 Cup (12 tbs)

Baking powder

1 Tablespoon

White sugar

3 Tablespoon

Salt

3⁄4 Teaspoon

Egg

1

, lightly beaten

Milk

1 1⁄2 Cup (24 tbs)

Melted butter

3 Tablespoon

, cooled
Nutrition Facts
Serving size
Calories 240 Calories from Fat 83
% Daily Value*
Total Fat 9 g14.4%
Saturated Fat 5.3 g26.5%
Trans Fat 0 g
Cholesterol 57 mg
Sodium 476.7 mg19.9%
Total Carbohydrates 34 g11.4%
Dietary Fiber 2 g8%
Sugars 11 g
Protein 7 g13.1%
Vitamin A 5.7% Vitamin C
Calcium 26.3% Iron 10.1%
*Based on a 2000 Calorie diet
Directions
Stir together the dry ingredients.
Combine the egg, milk, and melted butter.
Add to the dry ingredients, mixing just long enough to incorporate the flour.
Do not beat.
Pour onto a hot griddle or a frying pan, lightly greased.
Turn when the bubbles break and the batter does not fill the holes.
Cook on the other side until the pancakes even out.
Yield: 12 medium pancakes.
Serve with maple syrup.