»

Recipes

»

Italian

»

Easy Bruschetta
Easy Bruschetta Recipe
An easy to make Bruschetta recipe to go along with your evening tea. So simpe and easy to make that you could even involve the kids and have a fun-filled evening. A great reason to spend time together.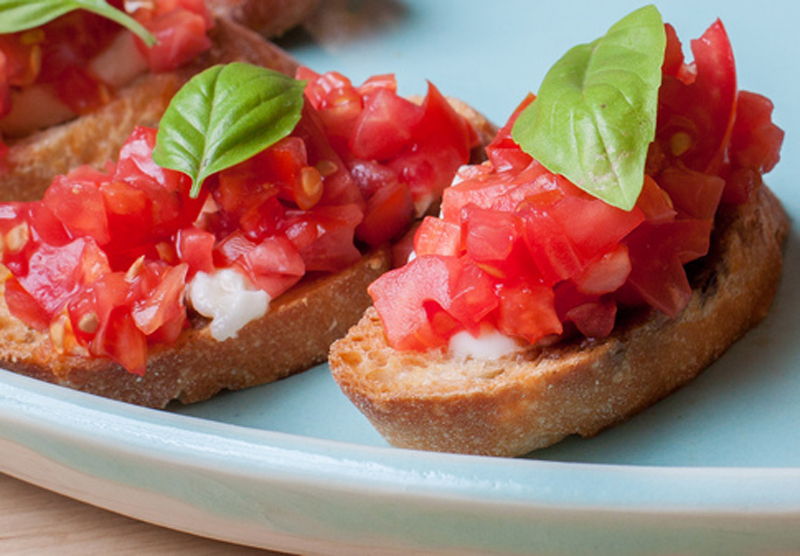 Ingredients
Organic diced tomatoes

1 Can (10 oz)

(Drained)

Chopped basil leaves

2 Tablespoon

Chopped basil

2 Tablespoon

Extra virgin olive oil

1 Tablespoon

Garlic

1 Clove (5 gm)

, finely chopped

Baguette slice

12

(Toasted)
Nutrition Facts
Serving size
Calories 109 Calories from Fat 15
% Daily Value*
Total Fat 2 g2.4%
Saturated Fat 0.23 g1.2%
Trans Fat 0 g
Cholesterol 0 mg
Sodium 205.2 mg8.5%
Total Carbohydrates 20 g6.7%
Dietary Fiber 0.37 g1.5%
Sugars 0.6 g
Protein 3 g6.1%
Vitamin A 9.2% Vitamin C 6.7%
Calcium 1.2% Iron 1.3%
*Based on a 2000 Calorie diet
Directions
Stir together tomatoes, basil, olive oil and garlic.
Spoon mixture onto toasted bread slices. Serve immediately otherwise the bread will loose it's crunch feeling.
Image Courtesy :
http://www.flickr.com/photos/sackton/7906679222/