»

Recipes

»

Stew
Brunswick Stew Recipe
The brunswick stew is usually a chicken and vegetables prepared with available veggies. This brunswick stew recipe is flavored with basil, parsley and bayleaf. Cooked along with beef bones, ham and squirrel meat, this brunswick stew is almost like a country fare and very filling.
Brunswick stew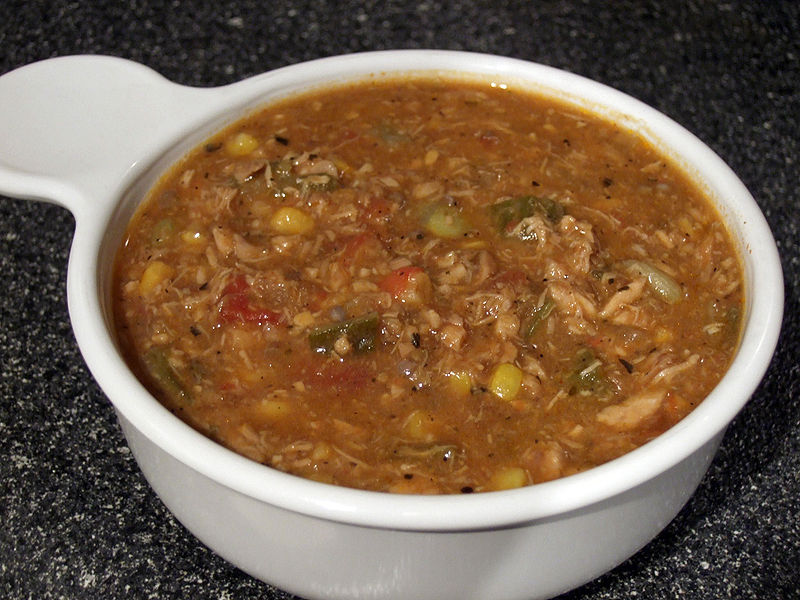 Ingredients
Chickens

6 Pound

, cut in pieces (Two 3 Pound Pieces)

Skinned tomatoes

4 Cup (64 tbs)

, chopped

Shin bone of beef/Veal bone

2 Pound

Celery with tops

2 Cup (32 tbs)

, chopped

Ham bone

1

(From Baked Virginia Or Country Ham)

Butter beans/Small green lima beans

2 Cup (32 tbs)

Squirrel

1

, cut into pieces

Corn

4 Cup (64 tbs)

Water

3 Quart

Sugar

1⁄2 Cup (8 tbs)

Butter

1⁄2 Cup (8 tbs)

Bay leaf

1

Red pepper pod

To Taste

, crushed

Basil

1 Teaspoon

Coarse black pepper

1 Teaspoon

Parsley

2 Tablespoon

, chopped

Potatoes

4 Large

, pared and boiled until tender

Onions

2

, sliced
Nutrition Facts
Serving size: Complete recipe
Calories 17334 Calories from Fat 6250
% Daily Value*
Total Fat 697 g1072.4%
Saturated Fat 201.3 g1006.7%
Trans Fat 0.1 g
Cholesterol 6486 mg
Sodium 9932 mg413.8%
Total Carbohydrates 957 g319%
Dietary Fiber 145.5 g582%
Sugars 182.1 g
Protein 1744 g3488.6%
Vitamin A 347.4% Vitamin C 699.2%
Calcium 144.2% Iron 1741.8%
*Based on a 2000 Calorie diet
Directions
Put chickens, beef or veal bone, ham bone, squirrel, water, sugar, bay leaf, basil, and parsley in a large soup kettle.
Cook over a low heat until meat is tender enough to fall from bones.
Remove meat from broth and cool.
To the broth add onions, tomatoes, celery, and beans.
Continue cooking slowly until beans are tender.
Stir frequently.
Remove meat from bones and cut into pieces.
Add to stew, then add corn.
Simmer for 10 minutes, then stir in butter, red pepper pod, and black pepper.
Add salt to taste.
Work potatoes through a ricer or blend in an electric blender and stir into stew.
Stir constantly for 15 minutes or until mixture is the consistency of mush.