»

Recipes

»

Sauce
Brown Sauce Recipe
Brown Sauce can be used as a thickener base for other sauces. It makes a simple gravy with vegan recipes. If seasoned generously, this Brown Sauce recipe can even replace the main gravy on your table!
Brown Sauce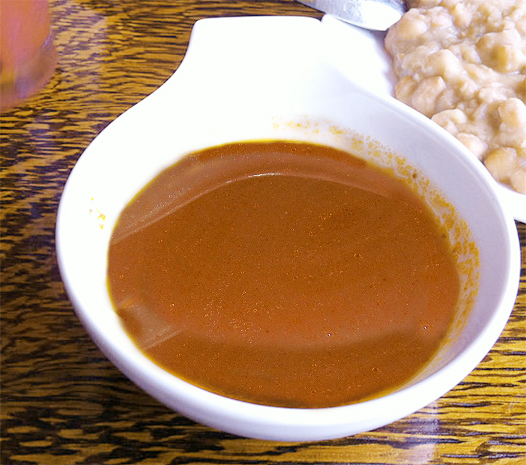 Summary
Preparation Time
10 Min
Cooking Time
1 Hr 8 Min
Ready In
1 Hr 18 Min
Difficulty Level
Medium
Ingredients
Butter

1 1⁄2 Ounce

Onion

1

, chopped

Vegetable stock

1 Pint

Flour

1 Ounce

Carrot

1

, chopped

Salt

To Taste

Bouquet garni

2 Gram

(1 stick)

Yeast extract

1 Tablespoon

Celery

1 Cup (16 tbs)

Sugar

1 Pinch
Nutrition Facts
Serving size: Complete recipe
Calories 553 Calories from Fat 310
% Daily Value*
Total Fat 35 g54.2%
Saturated Fat 22 g110.1%
Trans Fat 0 g
Cholesterol 91.4 mg
Sodium 1980.1 mg82.5%
Total Carbohydrates 51 g16.9%
Dietary Fiber 10 g40.1%
Sugars 11.7 g
Protein 10 g20.8%
Vitamin A 236.5% Vitamin C 29.4%
Calcium 12.8% Iron 14.5%
*Based on a 2000 Calorie diet
Directions
GETTING READY
1. Finely chop onions and carrots.

MAKING
2. In a pan, melt butter.
3. Add finely chopped vegetables and let it brown over a low flame without burning. Stir it continuously. This will take 30 minutes.
4. Add flour and brown gently for 8 minutes, stirring it all the time.
5. In another pan, take yeast extract with the vegetable stock. Brown it.
6. Add it to the vegetables with the herbs, salt and sugar.
7. Simmer for 30 minutes.
8 Strain and check the taste. Adjust for seasoning, consistency and reheat.

SERVING
9. Serve Brown Sauce with vegetables.