»

Recipes

»

Veal

»

Bronzed Veal Chops
Bronzed Veal Chops Recipe
French Veal Chops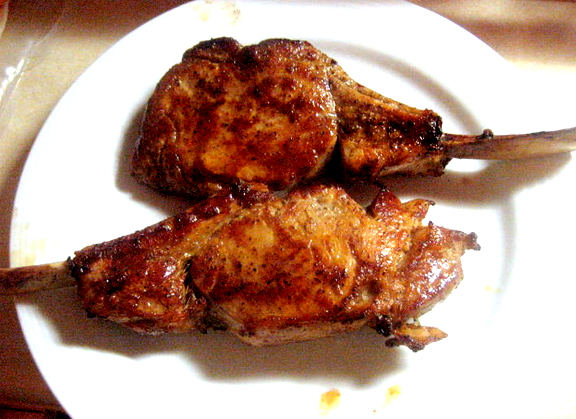 Ingredients
For seasoning mix

Salt

1 1⁄2 Teaspoon

Garlic powder

1 1⁄2 Teaspoon

Onion powder

1 1⁄4 Teaspoon

Dried thyme leaves

1 Teaspoon

Ground cumin

1 Teaspoon

Dry mustard

3⁄4 Teaspoon

Sweet paprika

1⁄2 Teaspoon

Black pepper

1⁄2 Teaspoon

White pepper

1⁄2 Teaspoon

Cayenne

1⁄4 Teaspoon

Veal chops

4 1⁄2 Pound

, all visible fat removed (6 Chops, 12 Ounce Each)

Vegetable oil cooking spray

1
Nutrition Facts
Serving size: Complete recipe
Calories 3049 Calories from Fat 1273
% Daily Value*
Total Fat 141 g217.5%
Saturated Fat 57.4 g287.1%
Trans Fat 0 g
Cholesterol 1673.8 mg
Sodium 4596.6 mg191.5%
Total Carbohydrates 20 g6.5%
Dietary Fiber 4.7 g18.6%
Sugars 4.3 g
Protein 398 g796.5%
Vitamin A 14.4% Vitamin C 11.3%
Calcium 47.8% Iron 144.6%
*Based on a 2000 Calorie diet
Directions
Combine the seasoning mix ingredients in a small bowl.
Lay the veal chops on a cutting board, take the point of a boning knife and, following the curve of the bone, cut through the meat a little less than half the thickness of the bone; do this on both sides.
This step helps reduce the thickness of the meat while keeping it still attached to the bone, so the chops will cook very quickly over high heat and retain maximum moisture.
Pound the entire meaty part of the chop with a meat mallet, reducing the thickness of the chops to no more than 1/2 inch.
Sprinkle all surfaces of the chops evenly with the seasoning mix.
Preheat a 12-inch skillet, preferably nonstick, over high heat to 400°, about 5 minutes.
While the skillet is heating, spray each chop lightly with the vegetable oil spray.
Place the chops in the skillet two at a time, and cook 1 minute.
Turn the chops over and cook 2 minutes, then turn back to the other side and cook 1 minute more.
Remove the cooked chops, wipe the skillet clean, place back over high heat, and repeat the process with the remaining chops.