»

Recipes

»

Mexican

»

Salsa

»

Broiled Salmon With Mango Jalapeno Mint Salsa
Broiled Salmon with Mango Jalapeno Mint Salsa Recipe
This dish has such a delicious combination of flavors. The fresh mango, mint and cilantro add a tasty herb sweetness to the salmon while the jalapeno adds just the right amount of heat. If you don't like salmon, use the mango salsa on chicken, instead.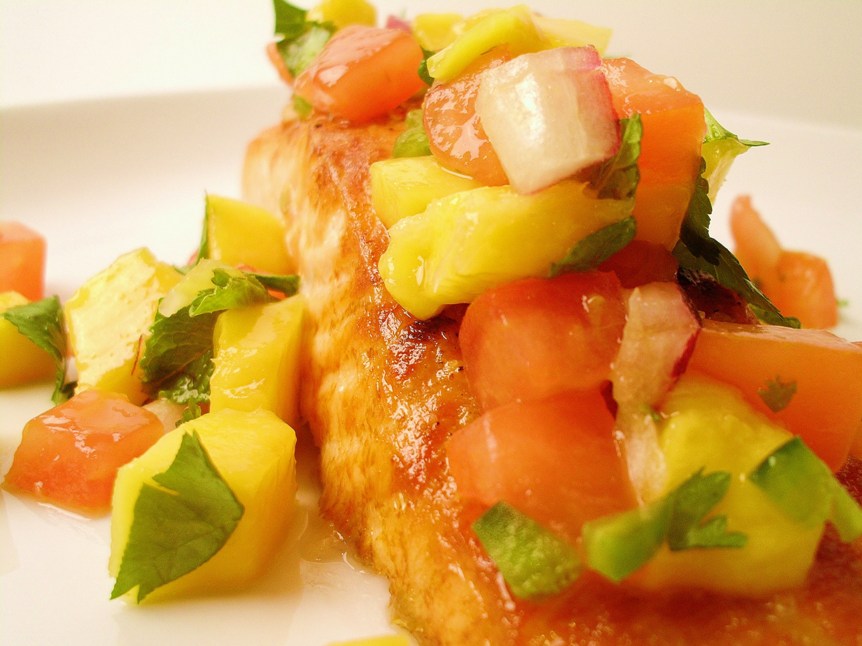 Ingredients
Mango

1 Large

, peeled

2 tomatoes, seeded and diced

Red onion

1/4 Cup (16 tbs)

, diced

1 large clove garlic, minced

1/2 jalapeno, seeded and minced

Cilantro

1/4 Cup (16 tbs)

, chopped

Mint

2 Teaspoon

, chopped

Lime juice

1 Tablespoon

Extra virgin olive oil

1 1/2 Tablespoon

Sea salt

To Taste

Cracked black pepper

1 To taste

4 (6-ounce) salmon steaks
Directions
Combine ingredients (except salmon) in small glass or other non-reactive bowl. Set aside, or cover and put in refrigerator.
Turn on oven broiler and leave door ajar to vent. Line broiler pan with foil. Broil salmon steaks on prepared pan for 8-12 minutes or until just opaque in center. To serve, top broiled salmon with salsa.
Beauty Tip: Having a bad skin week? Cook the Broiled Salmon with Mango Jalapeno Mint Salsa recipe! Salmon is rich in omega-3 fatty acids, which are healthy powerhouses that help to reduce inflammation and can add a glow to your complexion. Salmon is also a fabulous source of protein and vitamins. The mango salsa is packed with nutrients and antioxidants, so you'll be taking care of your body while eating a delicious meal.
About Christianne Klein:
Christianne Klein is an Edward R. Murrow award-winning journalist, author, television host and former national news anchor for ABC News. She has appeared on numerous television programs, cooking her favorite healthy recipes, and also worked alongside Chef Emeril Lagasse on an episode of his show "Emeril Green". Known for growing and cooking with her own fresh herbs, Christianne has compiled her favorite recipes, information and beauty tips into one amazing cookbook,
Christianne's Herbal Kitchen: Fresh Herb Recipes for Body and Soul
. Christianne is the founder of
Truth Fairy TV
, a website devoted to health, beauty and inspiration.
For more information or to order a copy of Christianne's Herbal Kitchen, go to
TheHerbCookbook.com.