»

Recipes

»

Rice

»

Broccoli And Rice
Broccoli And Rice Recipe
Broccoli and rice is an easy to prepare all in one meal. Easy and simple to prepare dinner dish is just apt for a weeknight after long hard day at office. Broccoli and rice is ready in a matter of minutes and needs putting together of the main ingredients. You can serve it with side dishes like salad and sautéed vegetables.
Broccoli Rice Casserole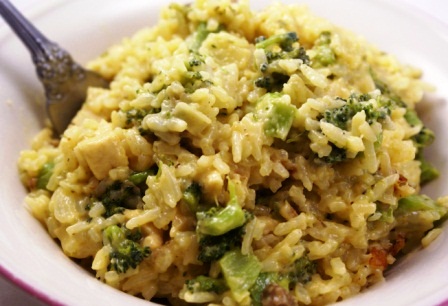 Ingredients
Rice

1 Cup (16 tbs)

Onion

1

Oil

1 Tablespoon

Sharp cheddar cheese

1/2 Cup (16 tbs)

, grated

Milk

3/4 Cup (16 tbs)

Salt

1 Teaspoon

Cream of chicken soup

1 Can (10oz)

Broccoli package

1

, chopped

Mushrooms-to top, sliced
Directions
MAKING
1)In a saucepan, cook rice in 2 1/2 cups boiling salted water until tender.
2)In a pan, heat oil and brown onion.
3)Add cheese, milk, salt and soup. Heat until cheese melts. Keep stirring.
4)Take a greased casserole and put rice in it.
5)Cook broccoli as per package directions until partially done and drain.
6)Place it over rice and pour soup mixture.
7)Top with mushrooms and bake at 350 degrees for 30 minutes.

SERVING
8)Serve broccoli and rice hot.