»

Recipes

»

Chowder
Broccoli Chowder Recipe
Broccoli Chowder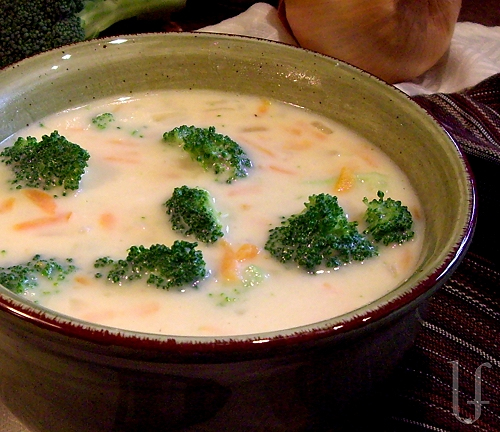 Ingredients
Broccoli

1 Pound

Chicken broth

1 1⁄2 Cup (24 tbs)

Milk

3 Cup (48 tbs)

Ham

1 Cup (16 tbs)

, cubed, cooked

Salt

1⁄4 Teaspoon

Black pepper

1⁄8 Teaspoon

Half and half/Milk

1⁄2 Cup (8 tbs)

Butter/Margarine

2 Tablespoon

Swiss cheese/Cheddar cheese

1 Cup (16 tbs)

, shredded
Nutrition Facts
Serving size
Calories 408 Calories from Fat 230
% Daily Value*
Total Fat 26 g40%
Saturated Fat 15.5 g77.4%
Trans Fat 0 g
Cholesterol 98.8 mg
Sodium 549.5 mg22.9%
Total Carbohydrates 20 g6.7%
Dietary Fiber 3 g12%
Sugars 11.7 g
Protein 27 g53.2%
Vitamin A 29% Vitamin C 169.1%
Calcium 54.6% Iron 6.9%
*Based on a 2000 Calorie diet
Directions
MAKING
1. Prepare the broccoli by trimming the leaves and coarse stems from the broccoli and cutting the stems and florets into bite-size pieces.
2. In a 3-quart saucepan bring the chicken broth to a boil, add the broccoli and cook, uncovered, for 5 minutes or until the broccoli is crisp-tender.
3. With a slotted spoon, from the saucepan remove the broccoli, chop it coarsely and set aside.
4. Add milk, ham, salt and pepper to the broth and bring to a boil.
5. Then stir in the half-and-half, butter and the broccoli and heat until the soup returns to a simmer.

SERVING
6. Top each serving with 1/4 cup of the cheese and serve.