»

Recipes

»

French

»

Brioche

»

Brioche I Traditional Method
Brioche I Traditional Method Recipe
Brioche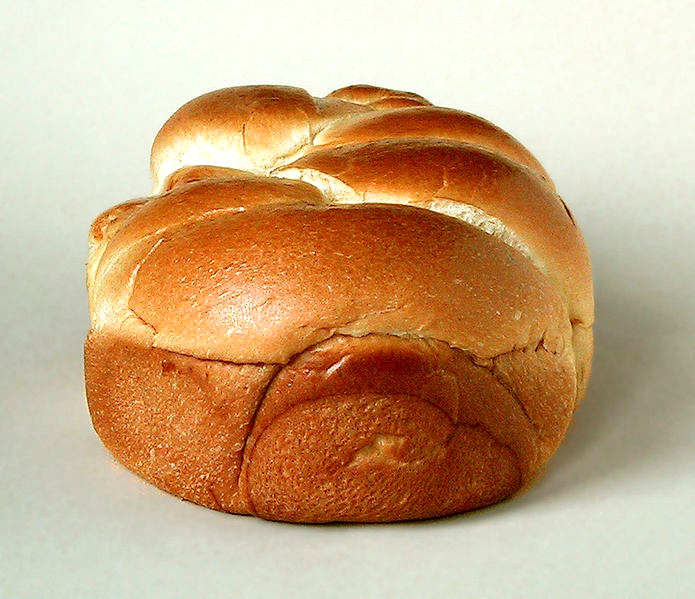 Summary
Preparation Time
20 Min
Cooking Time
15 Min
Ready In
35 Min
Difficulty Level
Easy
Health Index
Just Enjoy
Servings
4
Ingredients
Active dry yeast

1⁄4 Ounce

(1 Package)

Warm water

2 1⁄4 Cup (36 tbs)

(105-15° F)

Sifted flour

4 1⁄2 Cup (72 tbs)

Salt

1 Teaspoon

Sugar

3 Tablespoon

Eggs

6

Butter

1 1⁄2 Cup (24 tbs)

, softened to room temperature (Nu Substitute)

Egg yolk

1

, lightly beaten with 1 tablespoon cold water (For Glaze)

Cold water

1 Tablespoon

(For Beating The Egg Yolk)
Nutrition Facts
Serving size
Calories 1285 Calories from Fat 690
% Daily Value*
Total Fat 78 g120.5%
Saturated Fat 46.3 g231.3%
Trans Fat 0 g
Cholesterol 544.9 mg
Sodium 611.2 mg25.5%
Total Carbohydrates 120 g40%
Dietary Fiber 4.2 g16.7%
Sugars 12.3 g
Protein 26 g51.9%
Vitamin A 50.6% Vitamin C 0.01%
Calcium 9.2% Iron 46.2%
*Based on a 2000 Calorie diet
Directions
Beat yeast with 1/4 cup warm water and 1/2 cup flour until smooth and sticky.
Pour remaining water into a warm bowl; with a rubber spatula, scrape yeast mixture into water, trying to keep in 1 piece, and let sink to the bottom.
Let rise in a warm, draft-free spot until yeast mixture floats and is doubled in bulk, 7-10 minutes.
Meanwhile, mix remaining flour with salt and sugar on a pastry board and make a large well in the center.
Break 3 eggs into a bowl and set aside.
Break remaining eggs into well in flour and, using 1 hand, gradually work flour from edges of well into eggs.
Add remaining eggs and continue mixing until dough holds together (it will be very sticky).
Keeping a metal spatula in 1 hand to help scrape dough from board, scoop up as much dough as possible with other hand and throw or slap hard against board.
You won't be able to get all the dough at once and it will stick like glue to your fingers.
But keep throwing as much as possible against board, scraping up a little more each time with the spatula.
Continue throwing dough against board until it is smooth, shiny and leaves board and your fingers almost clean, about 100 times.
Squeeze 1/3 of butter into dough with your fingers; repeat until all butter is incorporated and dough smooth.
Also squeeze in yeast sponge, but not water it was floating in (dough will be soft).
Scoop into a lightly buttered 3-quart bowl, cover with cloth, and let rise in a warm, draft-free place until doubled in bulk, about 2 hours.
Stir dough down, cover with foil, and refrigerate 6-8 hours or overnight.
Open refrigerator as little as possible during this period.
Dough will rise slightly and become quite firm.
Scrape dough onto a lightly floured board, knead lightly with floured hands, and shape quickly into a ball.
Cut ball in 4 equal pieces with a floured knife and cut 3 of the quarters into 8 pieces, totaling 24.
Roll into smooth balls and place in greased brioche or muffin pans, 1 ball per cup.
With dampened index finger, make a deep depression in center of each ball.
Roll remaining dough into 24 small balls and place 1 in each depression to form the "topknot." Cover brioches, set in a warm spot and let rise until doubled in bulk, about 1 hour.
About 15 minutes before you're ready to bake, preheat oven to 425° F.; set rack in lower 1/3 of oven.
Gently brush brioches with glaze, taking care not to let it run into cracks around topknots (an artist's brush is best).
Set pans on baking sheets and bake 12-15 minutes until well browned.
Remove from pans at once after baking and serve hot or, if you prefer, cool on wire racks to room temperature.