»

Recipes

»

French

»

Brie

»

Brie And Papaya Tortillas
Brie and Papaya Tortillas Recipe
Great with Wine !!!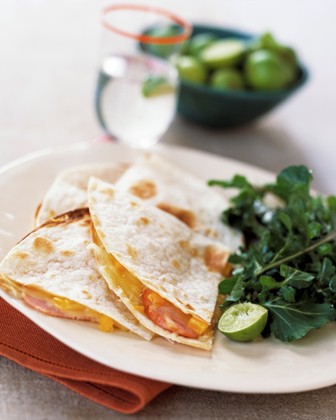 Recipe Story
Tortiila recipe that works !!!
Ingredients
Water

1/2 Cup (16 tbs)

1/2 Spainish onion, thinly sliced

Tortillas

10

1 pound Brie, cut in 1/4-inch strips

2 poblano chiles, roasted, Chopped

1 ripe papaya, peeled, seeded, and Chopped

Butter

4 Tablespoon

, melted

Oil

3 Tablespoon
Directions
Heat water in a medium skillet over high heat. Add onions, remove from heat, and let stand until slices are wilted, about 12 minutes. Drain and set aside. Heat tortillas over burner until warm on both sides.

Put a few strips of cheese on half of each tortilla. Add several onion strips and 1 tablespoon of the diced chiles and papaya. Fold tortillas over and brush with mixture of melted butter and oil. Preheat oven to 200 degrees.

Heat a skillet over medium heat and brown quesadillas on both sides. Place on a cookie sheet in oven to keep warm while browning remaining tortillas. Cut each into 3 triangular wedges and serve.