»

Recipes

»

Stew

»

Breakfast Stew Of Beef
Breakfast Stew Of Beef Recipe
Breakfast stew of beef is a light yet filling beef stew recipe. Cooked with butter, the breakfast beef stew is herbed with savory and marjoram. Flavored with worcestershire sauce and lemon juice, the breakfast stew is parsleyed and can be served in soup bowls with bread or biscuits.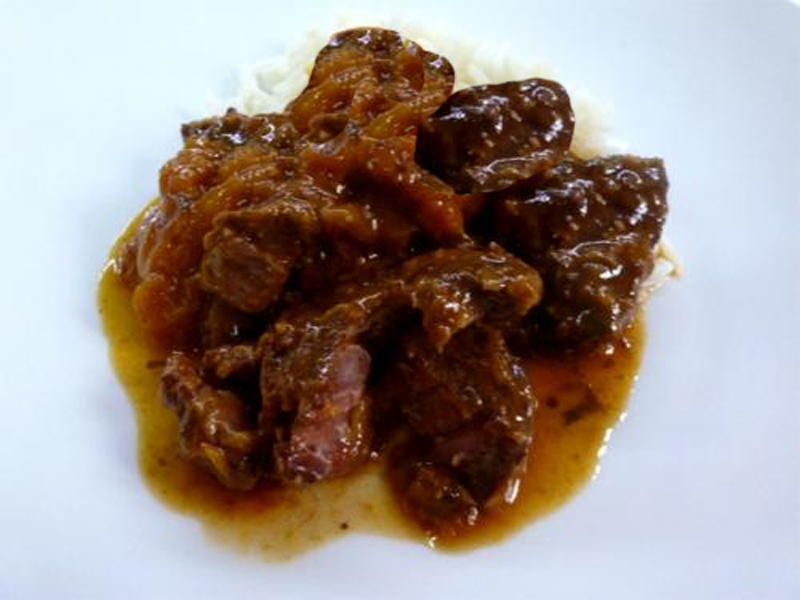 Ingredients
Beef broth

1 Cup (16 tbs)

Onion

1 Medium

, chopped

Prepared mustard

1 Teaspoon

Worcestershire sauce

1 Teaspoon

Marjoram

1⁄2 Teaspoon

Savory

1⁄2 Teaspoon

Pepper

1⁄4 Teaspoon

Lean beef

2 Pound

, cubed

Butter

2 Tablespoon

Flour

2 Tablespoon

Salt

3⁄4 Teaspoon

Parsley sprigs

4

Lemon

1⁄2

, juiced
Nutrition Facts
Serving size: Complete recipe
Calories 1805 Calories from Fat 743
% Daily Value*
Total Fat 83 g127.9%
Saturated Fat 39.6 g198.1%
Trans Fat 0 g
Cholesterol 445.5 mg
Sodium 2887.7 mg120.3%
Total Carbohydrates 50 g16.7%
Dietary Fiber 8.2 g32.7%
Sugars 9.6 g
Protein 207 g413.3%
Vitamin A 30% Vitamin C 78.5%
Calcium 46.4% Iron 115.6%
*Based on a 2000 Calorie diet
Directions
Melt butter in a saucepan, add onion, and cook until wilted.
Dust beef cubes with flour, add them to the onion, and saute until well browned on all sides.
Stir in broth, salt, pepper, savory, and marjoram.
Cover and cook over a low heat for about 1 1/2 hours or until very tender.
Before serving, stir in remaining ingredients.