»

Recipes

»

Breaded Cucumbers
Breaded Cucumbers Recipe
Breaded cucumbers is a dish that is old fashioned and always brings a surprise to the dining table. While most people avoid fried foods, breaded cucumbers are still a delicious appetizer or snack to serve.
Breaded Cucumbers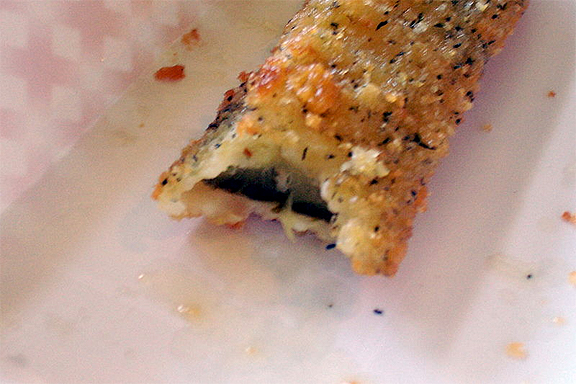 Ingredients
Cucumbers

2 Large

Egg

1

, beaten

Cream

2 Tablespoon

Thyme

1 Teaspoon

Cracker meal

1⁄2 Cup (8 tbs)

Salt

1 Dash

Pepper

1 Dash

Butter

1 Tablespoon

(For Frying)
Nutrition Facts
Serving size
Calories 298 Calories from Fat 89
% Daily Value*
Total Fat 10 g15.3%
Saturated Fat 5.4 g26.8%
Trans Fat 0 g
Cholesterol 122.9 mg
Sodium 139.3 mg5.8%
Total Carbohydrates 46 g15.2%
Dietary Fiber 2.6 g10.3%
Sugars 10.6 g
Protein 8 g16.8%
Vitamin A 15.4% Vitamin C 20.7%
Calcium 11.1% Iron 16.7%
*Based on a 2000 Calorie diet
Directions
GETTING READY
1)Pare cucumbers and slice into 8 pieces each.

MAKING
2)In a bowl, mix together egg, cream and thyme.
3)Dip cucumber pieces into mixture.
4)In another bowl, mix cracker meal and seasonings.
5)Roll cucumbers in cracker meal mixture.
6)Take a frying pan and heat butter, fry or broil cucumber until brown from all sides.

SERVING
7)Serve the breaded cucumber immediately.