»

Recipes

»

Bread Sticks
Bread Sticks Recipe
French Bread Sticks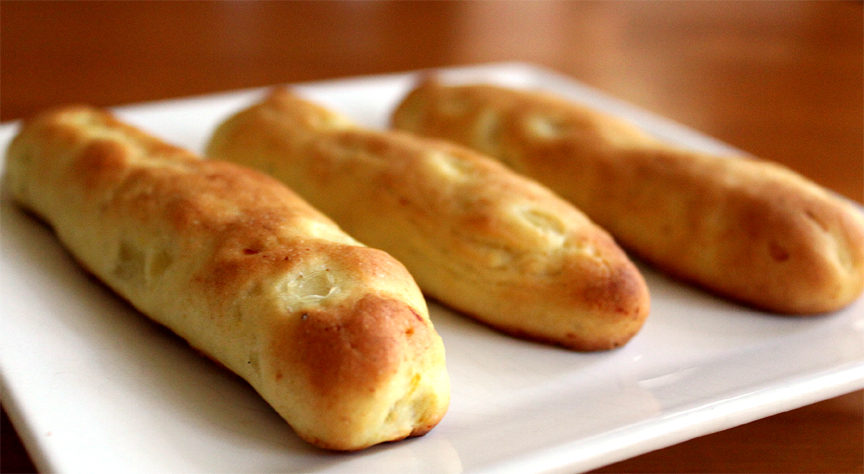 Ingredients
Boiling water

3⁄4 Cup (12 tbs)

Shortening

2 Tablespoon

Sugar

2 Teaspoon

Salt

1 Teaspoon

Warm water

1⁄4 Cup (4 tbs)

(105-15° F)

Active dry yeast

1⁄4 Ounce

(1 Package)

Sifted flour

3 1⁄2 Cup (56 tbs)

Egg whites

2

, beaten to soft peaks

Milk

2 Tablespoon
Nutrition Facts
Serving size
Calories 491 Calories from Fat 78
% Daily Value*
Total Fat 9 g13.7%
Saturated Fat 2.2 g11%
Trans Fat 1 g
Cholesterol 0.75 mg
Sodium 517.9 mg21.6%
Total Carbohydrates 87 g29%
Dietary Fiber 3.3 g13.3%
Sugars 3.3 g
Protein 14 g27.6%
Vitamin A 0.2% Vitamin C 0.01%
Calcium 2.9% Iron 30%
*Based on a 2000 Calorie diet
Directions
Mix boiling water, shortening, sugar, and salt and cool to lukewarm.
Pour warm water into a warm mixing bowl, sprinkle in yeast, and stir to dissolve.
Add cooled mixture and 1 1/2 cups flour and beat well.
Mix in egg whites, then remaining flour.
Knead on a lightly floured board until elastic, about 8 minutes.
Shape into a ball, place in a greased bowl, turning to grease all over.
Cover and let rise in a warm, draft-free place until doubled in bulk, about 1 hour.
Punch dough down, knead lightly 1-2 minutes, and divide in half.
Roll out 1 portion into a rectangle about 15" long, 8" wide, and 1/3" thick, keeping edges as straight as possible.
Cut into strips 8" long and 1/2" wide and roll lightly with floured palms, just enough to round cut edges.
Place sticks 1/2" apart on greased baking sheets; repeat with remaining dough.
Cover and let rise until doubled in bulk, about 1/2 hour.
Meanwhile, preheat oven to 400° F.
Brush sticks with milk and bake with a shallow baking pan, half full of water set on rack underneath, 12-15 minutes until lightly browned.
Cool on wire racks and store airtight.