»

Recipes

»

Pudding
Bread Pudding Recipe
This Bread Pudding tastes too good ! Try this fruits, almond, cheese and bread bake for your dessert. Your suggestions for this Bread Pudding are welcome !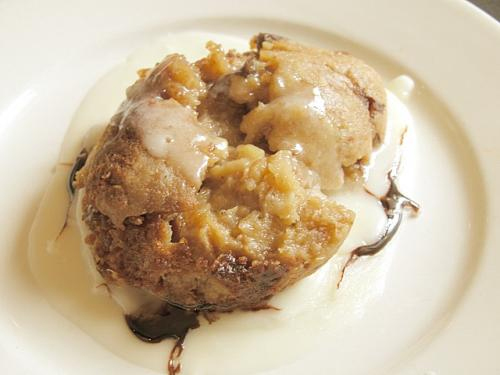 Ingredients
2 cups firmly packed dark brown sugar

Water

1 Quart

Cinnamon stick

1

Garlic

1 Clove (5gm)

slice

6

, cubed

3 apples, pared, cored, and sliced

Raisins

1 Cup (16 tbs)

Blanched almonds

1 Cup (16 tbs)

1/2 pound Monterey

Jack or similar cheese, cubed
Directions
1. Put brown sugar, water, cinnamon, and clove into a saucepan and bring to boiling; reduce heat and simmer until a light syrup is formed. Discard spices and set syrup aside.
2. Meanwhile, arrange a layer of toast cubes in a buttered casserole. Cover with a layer of apples, raisins, almonds, and cheese. Repeat until all ingredients are used. Pour syrup over all.
3. Bake at 350°F about 30 minutes.