»

Recipes

»

Bread Dumplings
Bread Dumplings Recipe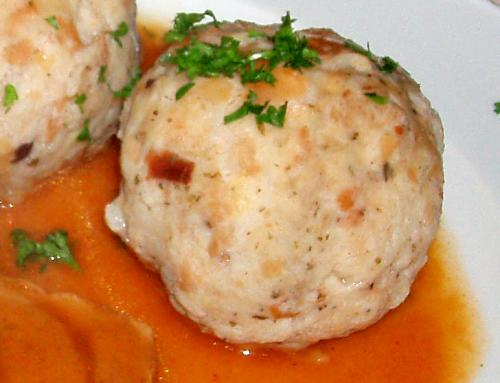 Summary
Preparation Time
20 Min
Difficulty Level
Easy
Health Index
Just Enjoy
Servings
4
Ingredients
3 cups 1/2" cubes stale bread, trimmed of crusts

Unsifted flour

1/4 Cup (16 tbs)

Salt

1 Teaspoon

Pepper

1/8 Teaspoon

Baking powder

1/4 Teaspoon

Nutmeg

1/8 Teaspoon

Parsley

1 Tablespoon

, minced

Yellow onion

2 Tablespoon

, minced

Milk

1/4 Cup (16 tbs)

1 egg, lightly beaten

Butter/Margarine

1 Tablespoon

, melted
Directions
Mix all ingredients together, let stand 5 minutes, and mix again.
Drop by rounded teaspoonfuls into a little flour, then roll into balls.
Drop into just boiling soup or stew, simmer uncovered 5 minutes, cover, and simmer 2-3 minutes longer.
Do not cook more than 1 layer deep at a time.
Serve in soup or stew, allowing 3-4 per serving.