»

Recipes

»

Pickle

»

Bread And Butter Pickles
Bread And Butter Pickles Recipe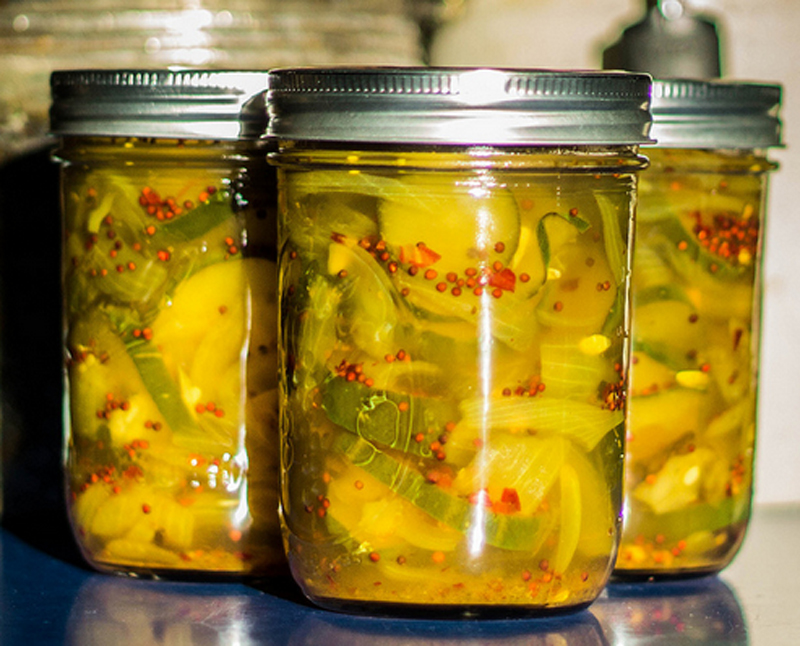 Ingredients
Unpeeled sliced cucumbers

25

Onions

10

, sliced

Green peppers

5

, cored and sliced

Red sweet peppers

2

, cored and sliced

Salt

2 Cup (32 tbs)

Apple cider vinegar

1 1⁄2 Quart

Sugar

2 1⁄2 Cup (40 tbs)

Mustard seeds

3 Tablespoon

Turmeric

1 1⁄2 Teaspoon

Celery seed

1 Tablespoon

White pepper

1⁄2 Teaspoon

Ginger powder

1 Tablespoon

Chopped garlic

1 Teaspoon

Dry dill weed

1 1⁄2 Teaspoon
Nutrition Facts
Serving size: Complete recipe
Calories 3781 Calories from Fat 221
% Daily Value*
Total Fat 26 g40.5%
Saturated Fat 4 g20.1%
Trans Fat 0 g
Cholesterol 0 mg
Sodium 3313.5 mg138.1%
Total Carbohydrates 860 g286.6%
Dietary Fiber 73.7 g294.9%
Sugars 652.8 g
Protein 66 g132.7%
Vitamin A 303.1% Vitamin C 1908.4%
Calcium 169.5% Iron 207%
*Based on a 2000 Calorie diet
Directions
Soak in large container overnight; cucumbers, onions, peppers, salt, and 3 qt. water.
Drain, rinse and drain again.
Set aside.
Combine remaining ingredients and boil 1 minute.
Add cucumber mixture, return to boil and remove from heat.
Seal in jars and process in hot water bath for 10 minutes.
Makes approximately 15 pints.
Recipe can be cut in half.
This should be canning salt which comes without any additives to prevent caking.
Additives cause pickles to soften and cloud.
Image Courtesy :
http://www.flickr.com/photos/stevesworldofphotos/8351625914/