»

Recipes

»

Brazilian Chocolate Chiffon Cake
Brazilian Chocolate Chiffon Cake Recipe
Love to try out something yummy this season? Here's is an original and deliciously different recipe for Brazilian Chocolate Chiffon Cake for you to try. This Brazilian Chocolate Chiffon Cake is indeed a treat for those with a sweet tooth!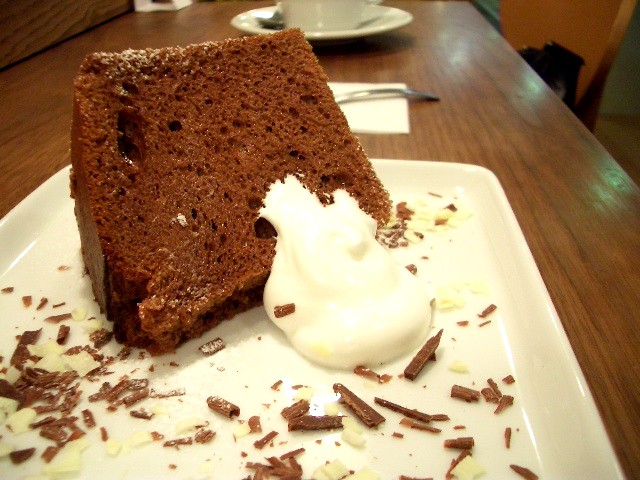 Ingredients
Cake flour

2 1/4 Cup (16 tbs)

, sifted

Sugar

1 2/3 Cup (16 tbs)

Baking powder

3 Teaspoon

Instant coffee

2 Teaspoon

, powdered

Salt

1 Teaspoon

1/4 teaspoon

Salad oil

1/2 Cup (16 tbs)

Eggs

6 Small

, separated

Water

3/4 Cup (16 tbs)

Vanilla

2 Teaspoon

Unsweetened chocolate square

3

, melted

Cream of tartar

1/2 Teaspoon
Directions
Mix and sift first six ingredients.
Make a well and add in order, salad oil, egg yolks, water and vanilla.
Beat with a spoon until smooth.
Add melted chocolate and blend well.
Add cream of tartar to egg whites.
Beat until egg whites form very stiff peaks.
Gently fold egg yolk and chocolate mixture into egg whites until well blended.
Fold, do not stir.
Turn batter into an ungreased 10-inch tube pan.
Bake in a slow oven (325°F.) 70 to 75 minutes or until cake springs back when touched lightly with finger.
Invert pan and let stand until cool.
Loosen cake from sides of pan and remove.
Image Courtesy :
http://commons.wikimedia.org/wiki/File:Chiffon_cake_kanko.jpg