»

Recipes

»

Nut

»

Nut

»

Brazil Nut Sugar Cookies
Brazil Nut Sugar Cookies Recipe
This is the recipe for the absolutely delicious Brazil Nut Sugar Cookies. Enjoy these crunchy cookies over a hot cup of tea. No need to visit uptown bakeries for delicious cookies...you can get them straight out of your own oven!!!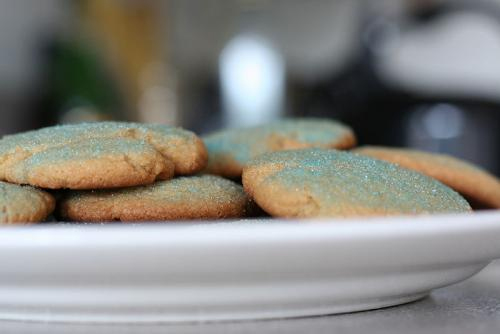 Summary
Preparation Time
30 Min
Cooking Time
15 Min
Ready In
45 Min
Difficulty Level
Medium
Ingredients
Butter/Margarine

1 Cup (16 tbs)

Sugar

1 Cup (16 tbs)

Eggs

2

, well beaten

Vanilla

1 1⁄2 Teaspoon

Sifted flour

3 Cup (48 tbs)

Baking powder

1 Teaspoon

Salt

1⁄4 Teaspoon

Brazil nuts

1 Cup (16 tbs)

, sliced
Nutrition Facts
Serving size: Complete recipe
Calories 4792 Calories from Fat 2464
% Daily Value*
Total Fat 284 g437.7%
Saturated Fat 139.4 g697%
Trans Fat 0 g
Cholesterol 906.8 mg
Sodium 1056 mg44%
Total Carbohydrates 505 g168.5%
Dietary Fiber 20.1 g80.4%
Sugars 205.8 g
Protein 72 g144.6%
Vitamin A 122.2% Vitamin C 1.6%
Calcium 74.7% Iron 128.4%
*Based on a 2000 Calorie diet
Directions
MAKING
1) In a bowl, combine butter and sugar and beat well till light and fluffy.
2) Add in the eggs and vanilla and blend well.
3) Combine and sift the flour, baking powder, and salt.
4) Add into the creamed mix and blend well.
5) Refrigerate for about 1/2 hour.
6) Lightly flour a board and roll out the dough to a 1/8 inch thickness.
7) Using a star-shaped cookie cutter, cut the dough.
8) In the center of each cookie, press in a Brazil nut slice.
9) Arrange on an ungreased baking sheet.
10) Place in the oven at 350°F and bake for about 12 minutes.

SERVING
11) Serve as a tea time snack.