»

Recipes

»

Sauce

»

Brandy Cranberry Sauce
Brandy Cranberry Sauce Recipe
Try out this Brandy Cranberry Sauce - an excellent fruit sauce made of cranberries and mildly flavored with brandy. This Brandy Cranberry Sauce may also be served as a dessert fondue to serve as a topping for pancakes, crepes, and waffles. For anyone who likes mild liqueur flavoring this Brandy Cranberry Sauce is a must try!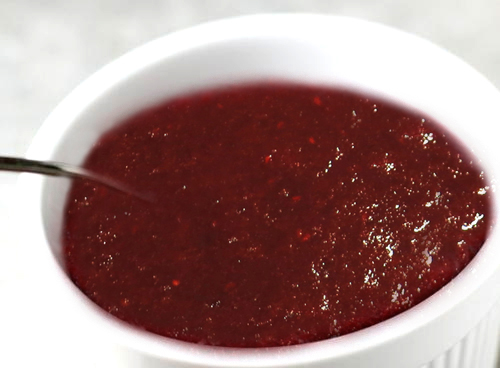 Summary
Difficulty Level
Easy
Health Index
Average
Ingredients
Cornstarch

2 Tablespoon

Water

3 Tablespoon

Whole cranberry sauce

1 1⁄2 Cup (24 tbs)

, canned or homemade

Grated orange rind

1⁄2 Teaspoon

Kirsch/Cointreau / brandy

1⁄4 Cup (4 tbs)
Nutrition Facts
Serving size: Complete recipe
Calories 652 Calories from Fat 0
% Daily Value*
Total Fat 0.02 g0.03%
Saturated Fat 0 g0.02%
Trans Fat 0 g
Cholesterol 0 mg
Sodium 74.2 mg3.1%
Total Carbohydrates 152 g50.6%
Dietary Fiber 5.3 g21.2%
Sugars 81 g
Protein 0.12 g0.23%
Vitamin A 0.2% Vitamin C 5.7%
Calcium 0.5% Iron 0.89%
*Based on a 2000 Calorie diet
Directions
Combine cornstarch and water; mix well.
Add all ingredients, except liqueur, in metal fondue pot; mix well and heat over moderate direct heat, stirring constantly, until thickened.
Stir in liqueur.