»

Recipes

»

Lamb

»

Braised Lamb Shanks
Braised Lamb Shanks Recipe
Braised lamb shanks is a slow cooked meat dish that can be served with rice or flatbreads. Spicy and rich, this lamb shanks preparation is flavored with parsley and curry powder along with a dash of cayenne for the heat. A milder version can be easily achieved with a less use of hot spices.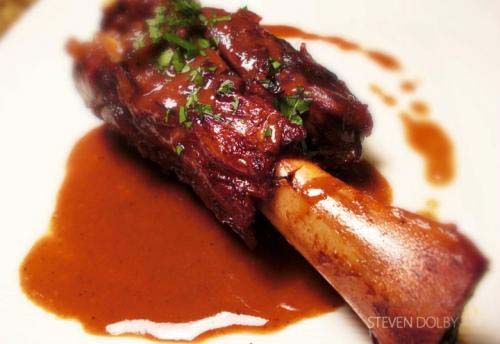 Ingredients
All purpose flour

2 Tablespoon

Salt

1⁄4 Teaspoon

Lamb shanks

2 Medium

Salad oil

1 Tablespoon

Onion

1⁄2 Cup (8 tbs)

, chopped

Garlic

1 Clove (5 gm)

, minced

Water

3⁄4 Cup (12 tbs)

Snipped parsley

1 Tablespoon

Curry powder

1⁄4 Teaspoon

Cayenne

1 Dash
Nutrition Facts
Serving size
Calories 415 Calories from Fat 242
% Daily Value*
Total Fat 27 g41.3%
Saturated Fat 10.1 g50.4%
Trans Fat 0.1 g
Cholesterol 113.9 mg
Sodium 221.5 mg9.2%
Total Carbohydrates 8 g2.8%
Dietary Fiber 0.82 g3.3%
Sugars 0.9 g
Protein 33 g65.6%
Vitamin A 7% Vitamin C 11.6%
Calcium 2.8% Iron 20.3%
*Based on a 2000 Calorie diet
Directions
Combine flour, 1/4 teaspoon salt, and dash pepper.
Coat lamb shanks on all sides in seasoned flour.
Brown evenly in hot oil.
Stir in onion and garlic; cook till tender but not brown.
Add remaining ingredients; cook, covered, over low heat till tender, about 1 hour and 15 minutes.
Turn meat once or twice during cooking.
Skim excess fat from sauce before serving with meat.

rimshah says :
its a very good and easy recipe..with basic ingredients...but i added extra water..because my meat looked a bit tough..also i added black onion seeds to the flour mixtyure..which gave it an extra something..then i served it with some sauted potatoes with macrodia carrots..using the remaining flour from the mixture...adding some extra seasoning..a TADA !!! AND EASY AND SIMPLE GOOD TASTING MEAL GOOD ENOUGH FOR A DINNER PARTY IF U ASK ME..... PS.. IM ONLY 15 :D
Posted on:
28 November 2009 - 2:50pm