»

Recipes

»

Beef

»

Braised Short Ribs
Braised Short Ribs Recipe
Braised Short Ribs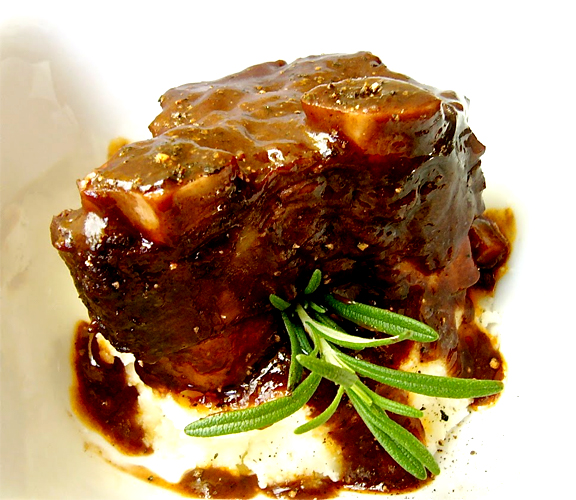 Ingredients
Beef short ribs

3 Pound

, cut in serving-sized pieces

Uncooked long grain rice

3⁄4 Cup (12 tbs)

Chopped onion

1⁄2 Cup (8 tbs)

Chopped celery

1⁄2 Cup (8 tbs)

Chopped green pepper

1⁄4 Cup (4 tbs)

Worcestershire sauce

1 Teaspoon

Dried thyme leaves

1⁄4 Teaspoon

, crushed
Nutrition Facts
Serving size: Complete recipe
Calories 5835 Calories from Fat 4450
% Daily Value*
Total Fat 494 g760.5%
Saturated Fat 215.1 g1075.7%
Trans Fat 0 g
Cholesterol 1032 mg
Sodium 775.3 mg32.3%
Total Carbohydrates 123 g41%
Dietary Fiber 3.4 g13.4%
Sugars 5.8 g
Protein 203 g405.7%
Vitamin A 8.9% Vitamin C 60.3%
Calcium 20.7% Iron 85.1%
*Based on a 2000 Calorie diet
Directions
In skillet brown ribs slowly.
Season with salt.
Place in 3-quart casserole.
Cover; bake at 325° for 1 hour.
In same skillet combine rice, onion, celery, and green pepper; cook till rice is lightly browned.
After meat has baked, remove ribs from casserole; pour off fat.
Place rice mixture in casserole; top with ribs.
Combine 2 1/4 cups water, 2 teaspoons salt, Worcestershire, thyme, and 1/4 teaspoon pepper; heat to boiling.
Pour over ribs.
Cover; bake 1 hour more.