»

Recipes

»

Potato

»

Braised Potatoes
Braised Potatoes Recipe
Braised Potatoes is a recipe that can be prepared in nearly no time. Try this Braised Potatoes; I am sure you will have a huge fan following for this one!
Braised Potatoes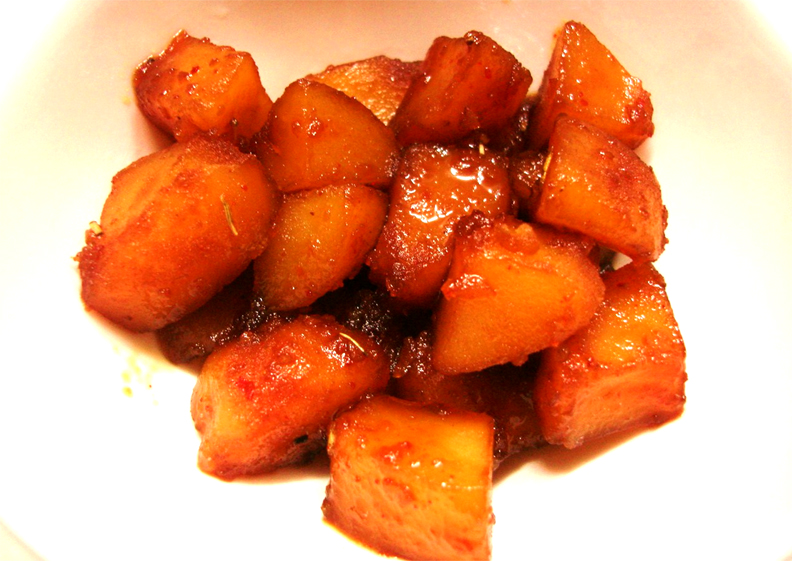 Ingredients
Onions

3

, finely chopped

Tomato paste

2 Tablespoon

Olive oil

1⁄2 Cup (8 tbs)

Potatoes

8 Medium

, peeled

Water

1 Cup (16 tbs)

, sliced (Adjust Quantity As Needed To Cover)

Salt

To Taste

Pepper

To Taste
Nutrition Facts
Serving size: Complete recipe
Calories 2210 Calories from Fat 970
% Daily Value*
Total Fat 110 g169%
Saturated Fat 15.5 g77.4%
Trans Fat 0 g
Cholesterol 0 mg
Sodium 527.4 mg22%
Total Carbohydrates 299 g99.7%
Dietary Fiber 38.7 g154.8%
Sugars 31.9 g
Protein 34 g67.6%
Vitamin A 9.9% Vitamin C 516.1%
Calcium 27.3% Iron 73.1%
*Based on a 2000 Calorie diet
Directions
Saute onions in olive oil until golden brown.
Add potatoes, tomato paste, salt and pepper, and enough water to cover.
Cover casserole, bring liquid to a boil, and simmer for about 30 minutes or until potatoes are cooked.
Cool a little before serving.