»

Recipes

»

Pork

»

Braised Pork With Prunes
Braised Pork with Prunes Recipe
braised pork with prunes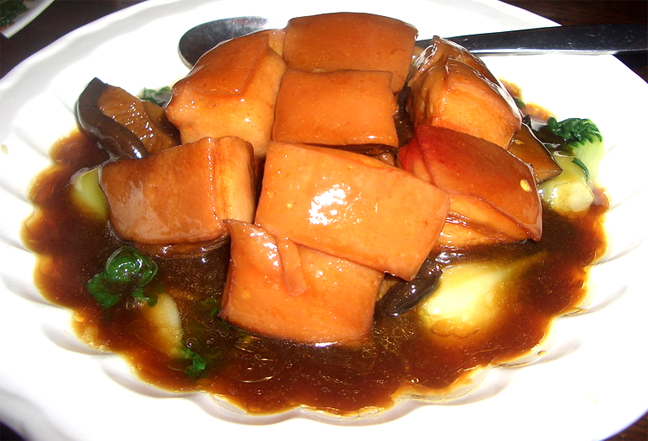 Ingredients
Fillet end of Leg of Pork

Salt

1 To taste

Ground black pepper

1

Plain flour

2 Tablespoon

Onions

2

Carrots

8 Ounce

Butter

2 Ounce

Red wine

1/4 Pint

Beef Stock

1/2 Pint

Small Prunes - 6 ounce

Bouquet Garni

Sultanas

2 Ounce
Directions
MAKING
1) Clean the pork and pat dry. Add into a bowl of seasoned flour. Coat well.
2) Slice the onions into thin rings.
3) In a casserole, melt butter. Add in the onions and saute till they brown. Add in the pork. Saute till brown. Add in a little flour and cook for a minute.
4) Slowly add in the red wine and stock. Let the mixture come to a boil, while stirring constantly. Next, add in the carrots, prunes and bouquet garni. Sprinkle salt and pepper.
5) Mix well, cover and let simmer for 60 minutes.
6) Add in the sultanas and cook on low for 30 more minutes. Cook till the juices run clear.
7) Transfer the pork onto a warm serving dish. Fish out the bouquet garni.

SERVING
8) Pour the sauce over the pork on the serving dish.
9) Serve potatoes, buttered spinach and lemon juice or cabbage on the side.