»

Recipes

»

French

»

Gratin

»

Braised Leeks Au Gratin
Braised Leeks Au Gratin Recipe
This Braised Leeks Au Gratin taste incredible ! Try these leeks in delicious egg and milk sauce topped with cheese. Your suggestions for this Braised Leeks Au Gratin are welcome !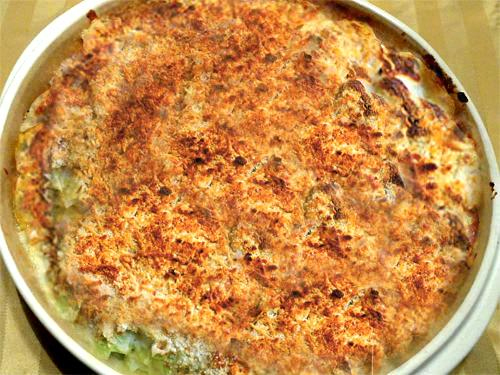 Ingredients
Leeks

2 Pound

Butter

2 Tablespoon

Egg

1

All purpose flour

2 Tablespoon

Milk

1 Cup (16 tbs)

Cheddar cheese

1⁄4 Pound

, diced
Nutrition Facts
Serving size: Complete recipe
Calories 1542 Calories from Fat 680
% Daily Value*
Total Fat 77 g118.8%
Saturated Fat 45.5 g227.5%
Trans Fat 0 g
Cholesterol 417.7 mg
Sodium 1050 mg43.8%
Total Carbohydrates 165 g55%
Dietary Fiber 17.1 g68.6%
Sugars 48.3 g
Protein 59 g117.5%
Vitamin A 349.7% Vitamin C 181.5%
Calcium 164.6% Iron 123.4%
*Based on a 2000 Calorie diet
Directions
1. Clean and wash leeks and cook in water over low heat for about 30 minutes.
2. In a separate saucepan, melt the butter and combine the egg, milk, and flour, stirring over low heat until thoroughly blended.
3. Put the cooked leeks in an ovenproof dish, pour on the sauce, and top with the Cheddar cheese.
4. Bake in a preheated 325°F oven for 15-20 minutes. Remove, let cool, and serve.