»

Recipes

»

Simple Bouillabaisse
Simple Bouillabaisse Recipe
Brazilian bouillabaisse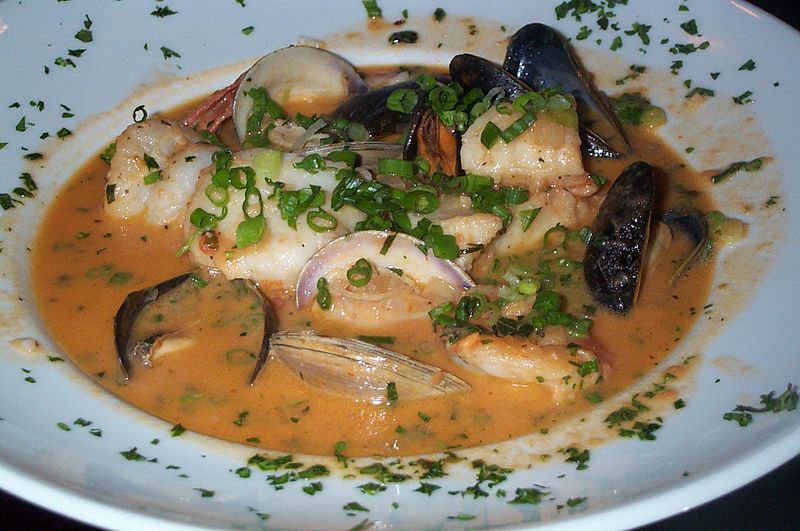 Ingredients
Mussels

1 Dozen

(Large Size)

Clam juice

16 Ounce

(2 Bottles, 8 Ounce Each)

Lobster

1 1⁄2 Pound

(1 Whole)

Olive oil/Salad oil

1⁄3 Cup (5.33 tbs)

Onion

1 Medium

, diced

Garlic

1 Clove (5 gm)

, minced

Tomatoes

3 Medium

, peeled and chopped

Bay leaf

1

Dry white wine

1 Cup (16 tbs)

Tomato paste

1⁄4 Cup (4 tbs)

Salt

1 Teaspoon

Thyme leaves

1⁄2 Teaspoon

Crushed saffron threads

1⁄2 Teaspoon

Red snapper fillets

1 Pound

Cod steak

1 Pound

French bread

1
Nutrition Facts
Serving size: Complete recipe
Calories 3085 Calories from Fat 902
% Daily Value*
Total Fat 102 g156.3%
Saturated Fat 15.9 g79.4%
Trans Fat 0 g
Cholesterol 1160.5 mg
Sodium 8187.5 mg341.1%
Total Carbohydrates 101 g33.7%
Dietary Fiber 12 g48%
Sugars 28.7 g
Protein 385 g769.9%
Vitamin A 129.2% Vitamin C 229.3%
Calcium 93.2% Iron 182%
*Based on a 2000 Calorie diet
Directions
1. With stiff brush, scrub mussels under running cold water to remove any sand; remove beards. In 8-quart Dutch oven over high heat, heat clam juice to boiling. Add mussels; heat to boiling. Reduce heat to medium-low; cover and cook about 5 minutes, until shells open. With slotted spoon, remove mussels to large bowl; rinse each mussel in cooking broth to remove any sand.
2. Let cooking broth in Dutch oven stand a few minutes until sand settles at bottom of Dutch oven; carefully spoon 2 cups clear broth into 2-cup measure and reserve. Discard remaining broth. Rinse and dry Dutch oven.
3. Place lobster on its back on cutting board. Where tail and body meet, insert point of large knife through to back shell (this immobilizes the lobster). Break off claws where they meet body. Separate lobster tail from body. With knife, cut tail crosswise through the segments into 3 or 4 pieces. Cut body piece lengthwise in half through the shell and cut off tentacles if any. Remove the sand sac in body. Leave the greenish-gray liver (tomalley) or dark roe (coral) if present, in body cavities. Cut each claw crosswise through the joints into 3 sections. With lobster cracker, crack claws.
4. In same Dutch oven over medium-high heat, in hot olive or salad oil, cook lobster pieces, stirring occasionally, until lobster meat turns opaque, about 5 minutes. With slotted spoon, remove lobster to bowl with mussels.
5. In oil remaining in Dutch oven, over medium heat, cook onion and garlic until tender, stirring occasionally. Add tomatoes, bay leaf, wine, tomato paste, salt, thyme, saffron, and reserved broth. Over high heat, heat to boiling. Reduce heat to medium-low; cover and simmer 30 minutes, stirring occasionally.
6. Cut red snapper and cod into 2-inch chunks; discard bone if any. Discard bay leaf from tomato mixture; add lobster and fish chunks. Over medium-high heat, heat to boiling. Reduce heat to medium-low; cook until fish flakes easily when tested with fork and lobster is tender. Add mussels; heat through. Ladle into soup bowls; serve with sliced French bread.