»

Recipes

»

Indian

»

Bengali

»

Bottle Gourd And Papaya Stew
Bottle gourd and papaya stew Recipe
A light and mildly sweet vegetable stew made with milk and a hint of ginger. A perfect Indian and Bengali meal starter with rice.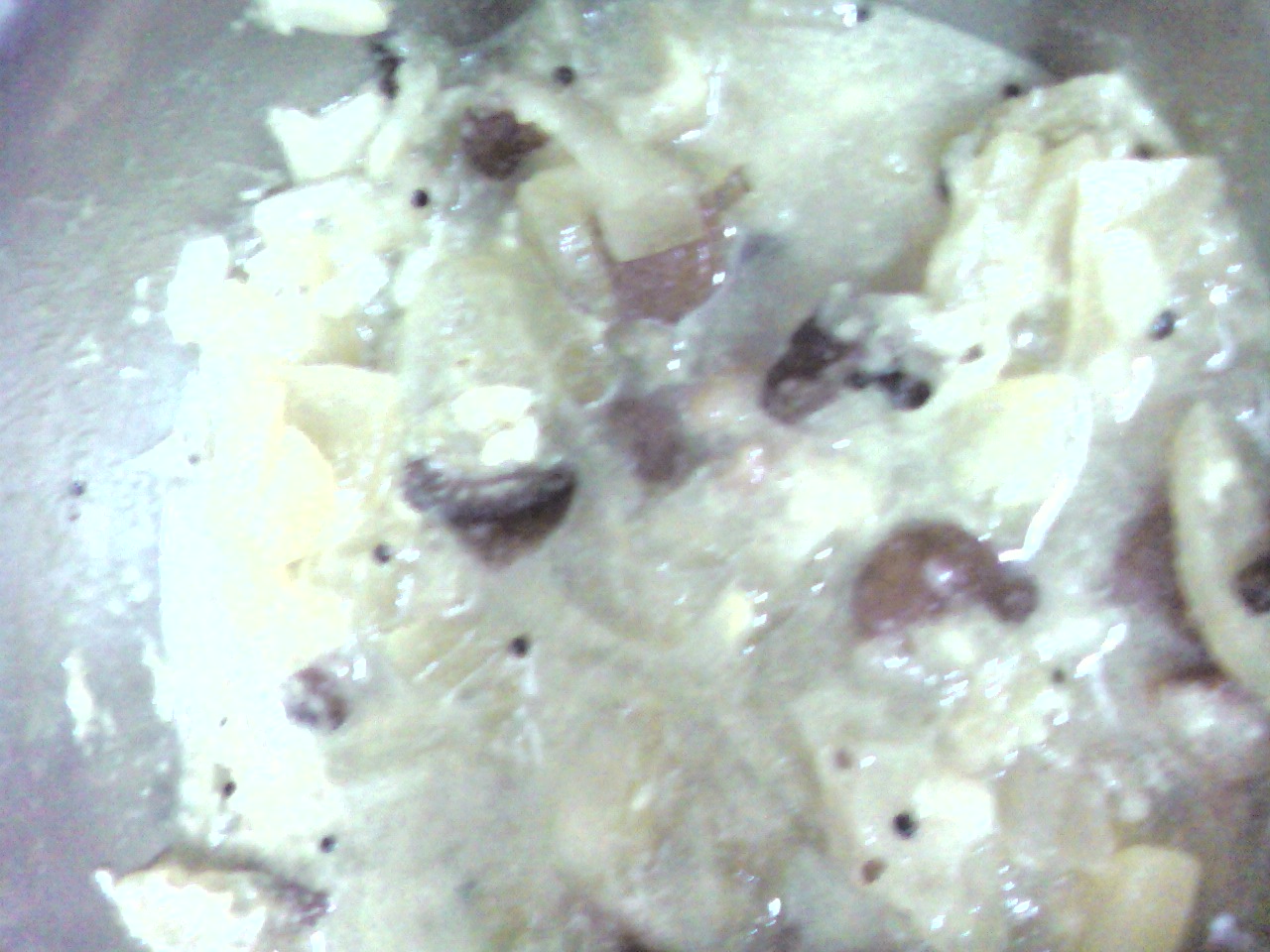 Recipe Story
my mother's recipe!
Ingredients
Boiled papaya

1

Bottle gourd

1

Mustard seeds

1⁄2 Teaspoon

Grated ginger paste

1 Teaspoon

Fenugreek seeds

1⁄2 Teaspoon

Bay leaf

1

, torn

Cooking oil

2 Tablespoon

Milk

1⁄2 Cup (8 tbs)

Water

1⁄2 Cup (8 tbs)

(As Required)

Fried dried lentil balls

8

(Daal Er Bori- Done Ahead)

Salt

To Taste

Turmeric

1 Pinch

(Paste Or Powder)
Directions
Heat oil in a wok.
When the oil is hot add the fenugreek seeds, bay leaf and mustard seeds.
Saute them well.
Add the vegetables.
Add salt and turmeric.
Mix and stir.
Add water.
Add the milk and stir well.
Add the ginger paste and bori.
Stir and mix well again.
Let the preparation stew and reduce a little.
Add the sugar to taste.
Serve hot with cooked rice.

Yes, its green squash! and for 'daal er bori' try Bengal gram lentils or any white daal..cuz, the 'bori' has a light color, almost white. you should get it at any Asian store which sells Indian culinary items. its pretty common for Bengali cooking. for making it at home, simply soak the daal (overnight), grind it to a paste. season with salt and shape them into tiny balls with tips of your fingers. arrange on a parchment paper sheet and dry them in the sun till they are totally crispy and moisture free. these will keep good in your fridge too!! I hope the stew comes out well for you..its really mild and has a very soothing taste. meant for the summer :)
Posted on:
24 July 2009 - 10:05am

Indian ingredients are easy to find here (Silicon Valley-Berkeley)at the numerous Indian markets. I have the white dahl in my pantry so this will be fun to try when my green "zuchetta" squash is ready in the garden. I think this is same as the one called green squash. It tastes a bit like artichoke hearts and doesn't get mushy when cooked. I use it in "curry-type" dishes often for that reason. http://growitalian.com/Qstore/Qstore.cgi?CMD=011&PROD=000155
Posted on:
29 July 2009 - 1:57pm

dunno... i though squash and papaya are different. squashes are not available here where I live but further up towards the hilly side of Bengal where it is cold and there is snowfall in the winter, squash grows in plenty... that is at least what my mom tells me. Do lemme know how this turns out for you, when you prepare it :)
Posted on:
31 July 2009 - 2:40am

Very interesting recipe, is it using green papaya? I grow zucchetta and I think I'll try it with this. Zucchetta is a wonderful long squash rthat doesn't get mushy when cooking. I love it in curries. It tastes a bit like artichokde hearts. Do you use black gram for the daal er bori?
Posted on:
23 July 2009 - 1:12pm