»

Recipes

»

American

»

Boston

»

Boston Brown Bread
Boston Brown Bread Recipe
I love this Boston Brown Bread for its nutritive qualities - it uses wholewheat flour and milk and hence brims with goodness! And ah, the smell of it is just appetizingly inviting. Would you need more reasons to try out this extra delicious Boston Brown Bread?
Boston Brown Bread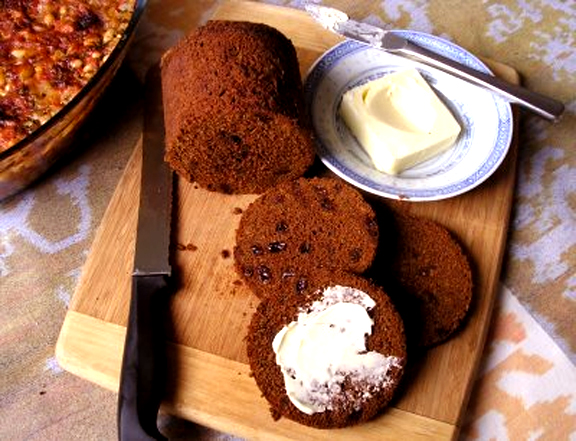 Ingredients
Brown sugar

1/2 Cup (16 tbs)

Fat

1 1/2 Tablespoon

, melted

Egg

1

, Well beaten

Molasses

1/2 Cup (16 tbs)

1 1/2 cups buttermilk or sour milk.

Whole wheat flour

3 Cup (16 tbs)

Soda

1 Teaspoon

Salt

1/4 Teaspoon

Raisins

1/2 Cup (16 tbs)
Directions
Combine sugar, fat, egg and molasses, add sifted dry ingredients alternately with buttermilk and mix well.
Add raisins.
Fill oiled mold 2/3 full and cover with three thicknesses of waxed paper secured with a rubber band or string.
Pour 4 cups of water in cooker and pour mold on rack.
Cover and allow steam to flow from vent tube for 30 minutes or with pressure control lever open.
Then cook at 5 lbs. for 30 minutes. Reduce pressure instantly.