»

Recipes

»

American

»

Boston

»

Boston Baked Beans
Boston Baked Beans Recipe
Baked Beans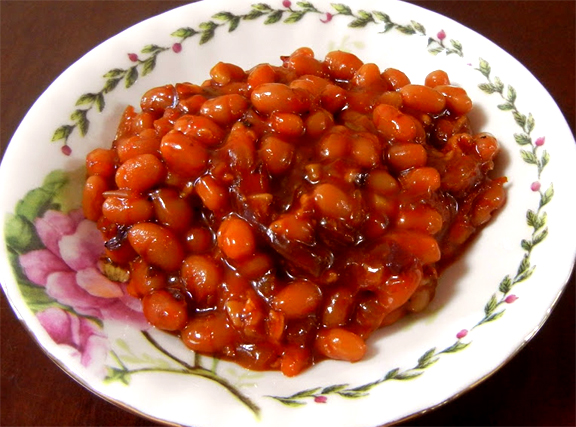 Ingredients
Dry navy beans

2 Cup (32 tbs)

Molasses

1⁄2 Cup (8 tbs)

(Dark Or Light)

Brown sugar

1⁄3 Cup (5.33 tbs)

Dry mustard

1 Teaspoon

Salt pork

1⁄4 Pound

, cut in half

Onion

1 Medium

, chopped
Nutrition Facts
Serving size: Complete recipe
Calories 2416 Calories from Fat 854
% Daily Value*
Total Fat 95 g146.7%
Saturated Fat 33.8 g169%
Trans Fat 0 g
Cholesterol 97.5 mg
Sodium 1696.4 mg70.7%
Total Carbohydrates 347 g115.5%
Dietary Fiber 57.3 g229%
Sugars 177.4 g
Protein 57 g114.8%
Vitamin A 0.1% Vitamin C 25.5%
Calcium 72.5% Iron 117%
*Based on a 2000 Calorie diet
Directions
Rinse beans; add to 2 quarts cold water.
Bring to boiling; simmer 2 minutes.
Remove from heat.
Cover; let stand 1 hour.
Add 1/2 teaspoon salt.
Cover; simmer 1 hour.
Drain, reserving liquid.
Measure 2 cups liquid, adding water if needed; mix with molasses, sugar, and mustard.
Score half of salt pork; grind remainder.
In 2-quart casserole combine beans, ground pork, and onion.
Pour sugar mixture over.
Top with scored pork.
Cover; bake at 300° for 5 to 7 hours.
Add liquid, if needed.