»

Recipes

»

Cake

»

Bonanza King Devils Food Cake
Bonanza King Devils Food Cake Recipe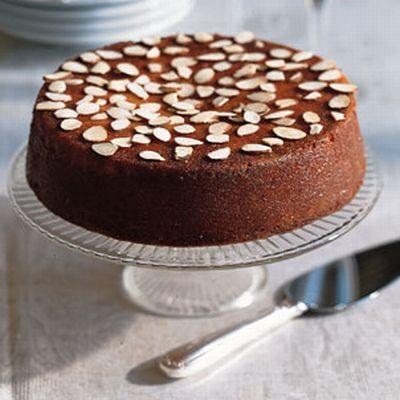 Ingredients
Cake flour

2 Cup (32 tbs)

Chocolate

1 1⁄2 Cup (24 tbs)

, ground

Sugar

1 Cup (16 tbs)

Baking soda

2 Teaspoon

Cream of tartar

1⁄2 Teaspoon

Salt

1⁄2 Teaspoon

Shortening

1 Cup (16 tbs)

Buttermilk

1 1⁄2 Cup (24 tbs)

Eggs

3 Small

Vanilla

1 1⁄2 Teaspoon
Nutrition Facts
Serving size: Complete recipe
Calories 5428 Calories from Fat 2715
% Daily Value*
Total Fat 310 g476.2%
Saturated Fat 105.3 g526.6%
Trans Fat 27 g
Cholesterol 482.2 mg
Sodium 3906.2 mg162.8%
Total Carbohydrates 636 g212%
Dietary Fiber 47.8 g191.1%
Sugars 357 g
Protein 81 g162.4%
Vitamin A 11.1% Vitamin C
Calcium 36.4% Iron 62.7%
*Based on a 2000 Calorie diet
Directions
Into a mixer bowl, sift flour with Ground Chocolate, sugar, baking soda, cream of tartar and salt.
Add shortening and 1 cup buttermilk.
Beat on medium speed for 2 minutes.
Scrape down bowl.
Add 1/2 cup buttermilk, eggs and vanilla.
Beat additional 2 minutes on medium speed.
Grease bottoms of 2 (9 by 1 1/2-inch round) cake pans.
Line with waxed paper.
Spread batter into pans.
Bake at 350°F for 30-35 minutes.
Cool on racks 10-15 minutes; remove from pans.

Toni Cook says :
What kind of chocolate is used? Do you grind it yourself or does it come ground?
Posted on:
7 August 2012 - 7:37am
Toni ground chocolate comes ready in a can. Try Ghirardelli Sweet Ground Chocolate and Cocoa, it is the best! It is basically sweetened cocoa but the product is perfect for baking or chocolate beverages because it has real chocolate for that intense rich chocolate flavor. You could also make your own at home. 4 cups sugar 1/2 vanilla bean, split crosswise 1 1/2 pounds high-quality semisweet chocolate, coarsely chopped 8 ounces milk chocolate, coarsely chopped 2 cups unsweetened cocoa powder, preferably Dutch process In food processor, process semisweet chocolate and milk chocolate until finely ground. Then add scraped vanilla and sugar (or vanilla sugar)and add cocoa powder to ground chocolate and mix well. Save in airtight, moisture free containers.
Posted on:
8 August 2012 - 11:18pm