»

Recipes

»

Sauce

»

Boiled Turkey And Celery Sauce
Boiled Turkey And Celery Sauce Recipe
This Boiled Turkey And Celery Sauce is a simple yet amazingly delicious turkey preparation. The dish is an absolute treat for your taste buds. You just have to prepare the Boiled Turkey And Celery Sauce!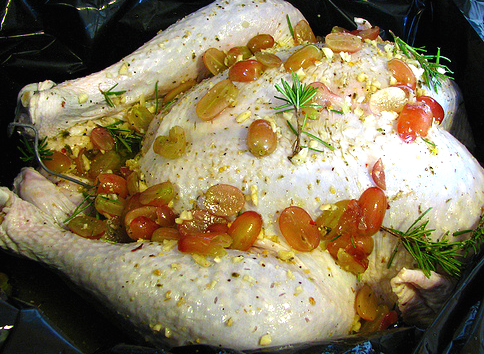 Ingredients
1 8 pound hen turkey

Carrots

2

Parsley

1 Bunch (100gm)

Onions

2

Thyme Sprig

1 Small

Bay Leaf

1

Ham bone

1

Salt

To Taste

Pepper

To Taste
Directions
Put the turkey and all the other ingredients into a saucepan with enough boiling water to cover.
Bring to a boil.
Skim.
Simmer gently for 1 1/2 hours, or until the legs feel springy under the pressure of your finger and thumb.
Turn off the heat and leave the bird to set in the water while you make the sauce.