»

Recipes

»

Muffin

»

Blueberry Quick Oat Muffins
Blueberry Quick Oat Muffins Recipe
Do you love berry muffins as much as I do. Blueberyy muffins are one of the best muffins I have ever tasted and these quick oats blueberry muffins are unbelievely delicous and not to mention healthy. The berries, cream, oats and vanilla all come together to create a soft and chewy blueberry muffin that is pure heaven. This blueberry quick oats recipe was a long guarded family secret. You will know why when you bake them!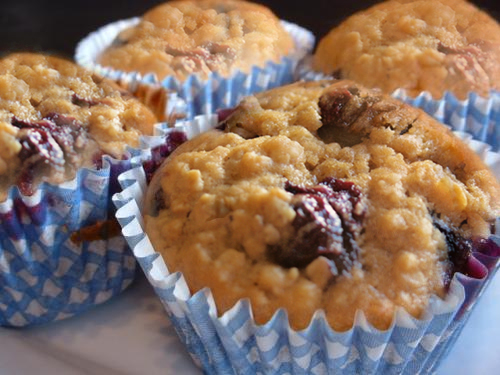 Ingredients
Granulated sugar

1⁄2 Cup (8 tbs)

(Around 125 milliliter)

All-purpose flour

1 1⁄4 Cup (20 tbs)

(Around 300 milliliter)

Quick oats

1 Cup (16 tbs)

, uncooked (Around 250 milliliter)

Baking powder

1 1⁄2 Teaspoon

(Around 7 milliliter)

Baking soda

1⁄2 Teaspoon

(Around 2 milliliter)

Sour cream

3⁄4 Cup (12 tbs)

(Around 175 milliliter)

Margarine

1⁄3 Cup (5.33 tbs)

, melted (Around 75 milliliter)

Milk

1⁄3 Cup (5.33 tbs)

(Around 75 milliliter)

Egg

1

, beaten

Vanilla

1⁄2 Teaspoon

(Around 2 milliliter)

Frozen blueberries

1 Cup (16 tbs)

, thawed (Around 250 milliliter, Frozen Can Be Used Too)
Nutrition Facts
Serving size: Complete recipe
Calories 2484 Calories from Fat 975
% Daily Value*
Total Fat 111 g170.3%
Saturated Fat 34.9 g174.3%
Trans Fat 0 g
Cholesterol 308.7 mg
Sodium 1539.3 mg64.1%
Total Carbohydrates 341 g113.7%
Dietary Fiber 24.2 g96.8%
Sugars 128 g
Protein 48 g97%
Vitamin A 81.6% Vitamin C 10.9%
Calcium 98.7% Iron 75.6%
*Based on a 2000 Calorie diet
Directions
Ramekins or microwave muffin pan, paper-lined
In a large bowl, Combine sugar, flour, oats, baking powder and baking soda.
In a smaller bowl, combine sour cream, margarine, milk, egg and vanilla; mix well.
Stir this mixture into the dry ingredients, mixing just until moist.
Fold in the blueberries.
Spoon batter into prepared ramekins or muffin pan, filling cups two-thirds full.
Sprinkle with Sugar-Cinnamon Mix.
Bake uncovered on High for 2 1/2 to 3 minutes.
A toothpick inserted in the center should come out clean and dry.
Let muffins stand for 3 to 5 minutes.