»

Recipes

»

Muffin

»

Blueberry Muffins
Blueberry Muffins Recipe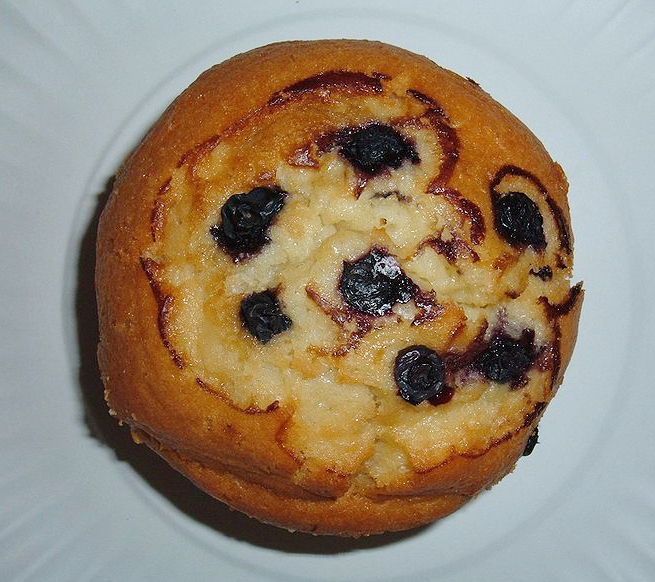 Ingredients
| | | |
| --- | --- | --- |
| | Flour | 2 Cup (32 tbs) |
| | Baking powder | 1 Teaspoon |
| | Salt | 1⁄2 Teaspoon |
| | Butter/Margarine | 2 Tablespoon |
| | Plain yogurt/Blueberry yogurt | 3⁄4 Cup (12 tbs) |
| | Honey | 2 Tablespoon |
| | Fresh blueberries | 1⁄2 Cup (8 tbs) |
Nutrition Facts
Serving size: Complete recipe
Calories 1365 Calories from Fat 285
% Daily Value*
Total Fat 33 g50.1%
Saturated Fat 19.4 g96.9%
Trans Fat 0 g
Cholesterol 86.5 mg28.8%
Sodium 1451.8 mg60.5%
Total Carbohydrates 235 g78.4%
Dietary Fiber 8.6 g34.4%
Sugars 40.6 g
Protein 33 g65.2%
Vitamin A 19.1% Vitamin C 13.6%
Calcium 62.5% Iron 70%
*Based on a 2000 Calorie diet
Directions
Preheat oven to 375°.
Sift flour, baking powder and salt together in large bowl; blend in butter with fork.
Blend in yogurt and honey; add blue berries, stirring only enough to distribute them evenly.
Fill paperlined or lightly greased muffin cups 2/3 full; bake 20 minutes.
Note: Toss berries with flour before mixing into batter to prevent streaking.
Image Courtesy :
http://commons.wikimedia.org/wiki/File:Blueberry_muffin.JPG

Anonymous says :
I would not make these again. They made more of a dough than a batter, and I couldn't mix the blueberries in. I ended up just pressing the blueberries on top of the muffins before baking. They ended up being more of a plain muffin with blueberries stuck to the top.
Posted on:
7 August 2010 - 11:16am