»

Recipes

»

Berries
Blueberry Buckle Recipe
Blueberry Buckle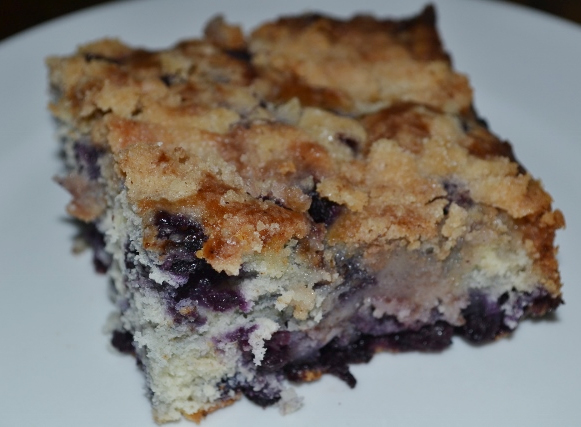 Ingredients
Brown sugar

3⁄4 Cup (12 tbs)

Shortening

1⁄4 Cup (4 tbs)

Egg

1

Milk

1⁄2 Cup (8 tbs)

Whole wheat flour

2 Cup (32 tbs)

Baking powder

2 Teaspoon

Salt

1⁄2 Teaspoon

Blueberries

2 Cup (32 tbs)

, well drained

Barley flour

1⁄3 Cup (5.33 tbs)

Packed brown sugar

1⁄2 Cup (8 tbs)

Cinnamon

1⁄2 Teaspoon

Butter/Margarine

2 Tablespoon
Nutrition Facts
Serving size: Complete recipe
Calories 3031 Calories from Fat 800
% Daily Value*
Total Fat 91 g139.8%
Saturated Fat 33 g164.8%
Trans Fat 6.7 g
Cholesterol 287.3 mg
Sodium 1928.6 mg80.4%
Total Carbohydrates 540 g180%
Dietary Fiber 45.2 g180.6%
Sugars 297 g
Protein 53 g106.8%
Vitamin A 26% Vitamin C 48%
Calcium 114% Iron 85.4%
*Based on a 2000 Calorie diet
Directions
Combine the 3/4 cup brown sugar, shortening, and egg in the Bosch bowl.
Mix thoroughly.
Blend in milk.
Add the whole wheat flour, baking powder, and salt.
When blended, carefully fold in blueberries.
Pour batter into a greased 9 x 9inch pan.
Combine barley flour, 1/4 cup brown sugar, and cinnamon in a small bowl.
Sprinkle over batter.
Dot with butter or margarine.
Bake in a 375°F.
Oven for 45 to 50 minutes.