»

Recipes

»

American

»

Cobbler
Blueberry Cobbler Recipe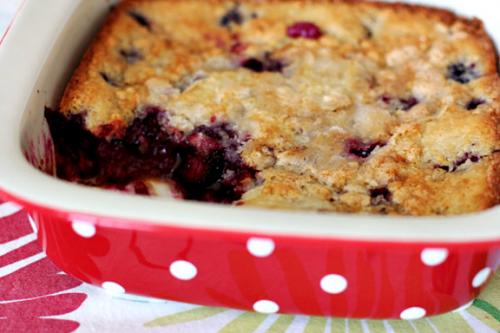 Summary
Preparation Time
5 Min
Cooking Time
5 Min
Ready In
10 Min
Difficulty Level
Medium
Ingredients
Sugar

2 Tablespoon

Cornstarch

1 Teaspoon

Blueberries

1 1⁄3 Cup (21.33 tbs)

(Fresh / Frozen, Thawed)

Lemon juice

2 Teaspoon

Baking mix

1⁄2 Cup (8 tbs)

Sugar

2 Teaspoon

Milk

2 Tablespoon

Dairy sour cream

2 Tablespoon

Sugar

1 Teaspoon

Ground cinnamon

1⁄8 Teaspoon
Nutrition Facts
Serving size: Complete recipe
Calories 597 Calories from Fat 80
% Daily Value*
Total Fat 9 g13.7%
Saturated Fat 4.1 g20.3%
Trans Fat 0 g
Cholesterol 18.6 mg
Sodium 594.1 mg24.8%
Total Carbohydrates 103 g34.4%
Dietary Fiber 18.4 g73.5%
Sugars 67.5 g
Protein 38 g75%
Vitamin A 6.3% Vitamin C 40.1%
Calcium 13.9% Iron 3.9%
*Based on a 2000 Calorie diet
Directions
Mix 2 tablespoons sugar and the cornstarch in 1-quart casserole.
Stir in blueberries and lemon juice.
Microwave uncovered on medium-high (70%) until boiling, 3 1/2 to 6 1/2 minutes; stir.
Mix baking mix, 2 teaspoons sugar, the milk and sour cream until soft dough forms.
Drop dough by 6 spoonfuls onto hot blueberry mixture.
Mix 1 teaspoon sugar and the cinnamon; sprinkle over dough.
Microwave uncovered until top of dough is almost dry, 2 1/2 to 4 1/2 minutes.
Let stand uncovered 5 minutes before serving.