»

Recipes
Blender Mayonnaise Recipe
Mayonnaise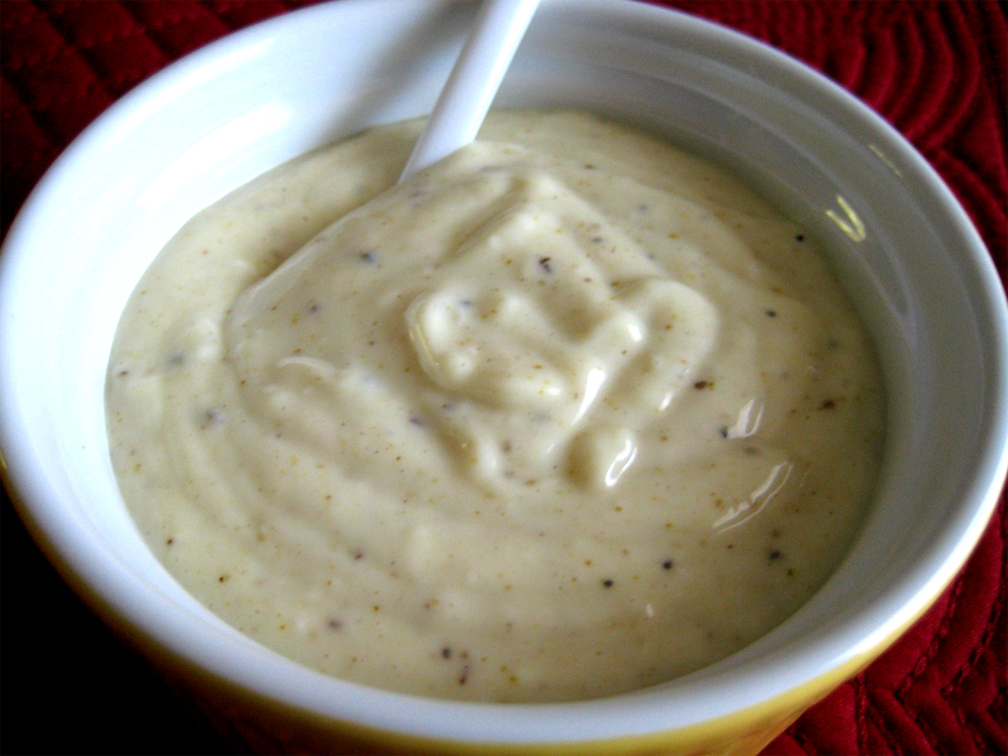 Ingredients
Egg yolks

2

Salt

To Taste

Pepper

To Taste

, freshly milled

Mustard

1 Pinch

Wine vinegar/Lemon juice

2 Tablespoon

Olive oil

1⁄2 Pint

(3 Deciliter)

Water

1 Tablespoon

, boiling
Nutrition Facts
Serving size: Complete recipe
Calories 2226 Calories from Fat 2195
% Daily Value*
Total Fat 248 g381.8%
Saturated Fat 36 g180%
Trans Fat 0 g
Cholesterol 370.2 mg
Sodium 418 mg17.4%
Total Carbohydrates 1 g0.5%
Dietary Fiber 0.13 g0.52%
Sugars 0.2 g
Protein 5 g9.9%
Vitamin A 8.7% Vitamin C 0.28%
Calcium 4.7% Iron 13.1%
*Based on a 2000 Calorie diet
Directions
MAKING
1. In a clean and dry blender or liquidizer jar, combine the egg yolks, seasonings and vinegar or lemon juice.
2. Pulse at a lowest speed to blend the ingredients.
3. With the motor running at a low speed, pour in the oil through the food chute, a few drops at a time.
4. The mayonnaise will begin to thicken when about half the oil has been added drop by drop to form an emulsion with the yolks.
5. Once the mayonnaise thickens, add oil in a thin steady stream until all of it has been incorporated.
6. Pour the boiling water through the chute to lighten and give a sheen to the mayonnaise and adjust the consistency.
7. Empty the dressing into a bowl or into a bottle.

SERVING
8. Use as required.

TIPS
9. Never attempt to make less than half a pint of mayonnaise in a blender, unless you have a very small jar as a small quantity will not emulsify well in a large machine.