»

Recipes

»

Cheese

»

Fondue

»

Blender Cheese Fondue
Blender Cheese Fondue Recipe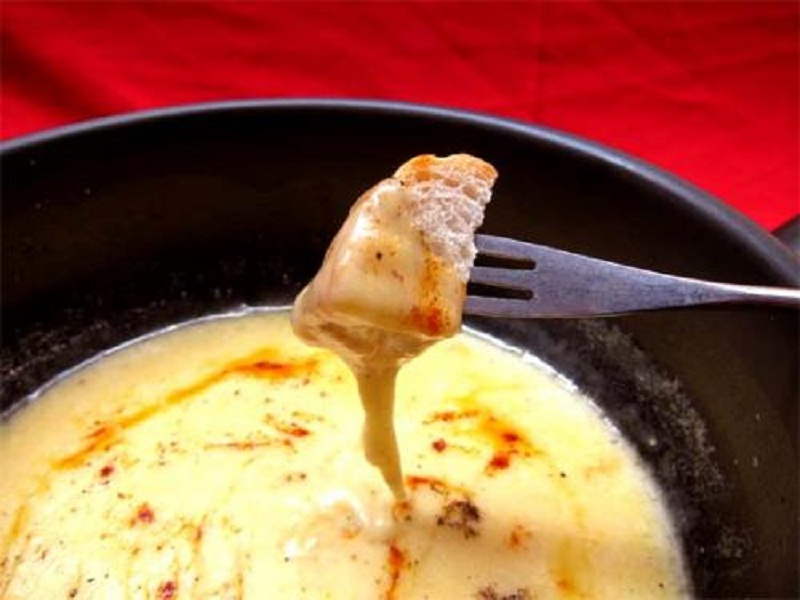 Ingredients
Gruyere cheese

8 Ounce

, cut into cubes to make 2 cups

Dry white wine

2 Cup (32 tbs)

Natural swiss cheese

16 Ounce

, cut into cubes to make 4 cups

All purpose flour

1 1⁄2 Tablespoon

Ground nutmeg

1 Teaspoon

Pepper

1 Teaspoon

Garlic

1 Clove (5 gm)

French bread

2 Cup (32 tbs)

, cut into bite-sized pieces (Each With One Crust)
Nutrition Facts
Serving size
Calories 1140 Calories from Fat 463
% Daily Value*
Total Fat 53 g81%
Saturated Fat 31.8 g159.1%
Trans Fat 0 g
Cholesterol 166.7 mg
Sodium 1205.8 mg50.2%
Total Carbohydrates 83 g27.5%
Dietary Fiber 3.4 g13.4%
Sugars 6.3 g
Protein 62 g124.8%
Vitamin A 29.6% Vitamin C 1.1%
Calcium 153.9% Iron 29.6%
*Based on a 2000 Calorie diet
Directions
Put Gruyere cheese in blender; blend till finely chopped; set aside.
Warm the wine.
Put 2 cups of Swiss cheese in blender with flour, nutmeg, pepper, and garlic; blend till finely chopped.
With blender at low speed gradually add warm wine, then Swiss cheese; blend smooth.
Pour into saucepan.
Add Gruyere.
Cook and stir over low heat till thick.
Pour into fondue pot; keep warm.
Spear bread on forks; dip in cheese.