»

Recipes

»

Cookie

»

Black-Eyed Susans
Black-Eyed Susans Recipe
One of the most satisfying snack of all time for me is Black-Eyed Susans. I relish these crispy and crunchy cookies. This is a well listed recipe that makes baking this simple. I'm sure you will enjoy this too.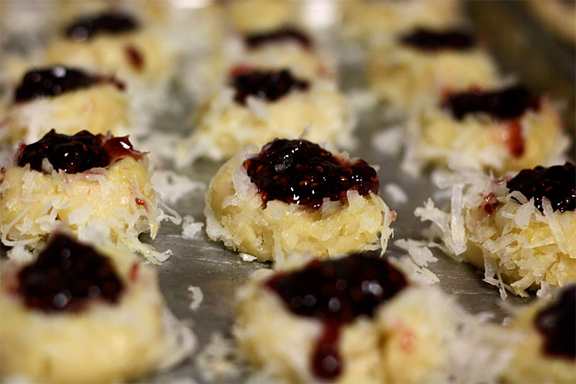 Ingredients
Shortening

1/2 Cup (16 tbs)

Granulated Sugar

3/4 Cup (16 tbs)

Egg

1

Vanilla

3/4 Teaspoon

Flour

3/4 Cup (16 tbs)

, sifted

Salt

1/2 Teaspoon

Quick-cooking oats - 1 1/4 cups

Coconut

3/4 Cup (16 tbs)

, chopped

Cooked prunes - 1 cup, chopped

Granulated Sugar

1/4 Cup (16 tbs)
Directions
GETTING READY
1) Preheat the oven at 400° F.
2) Grease a baking sheet.

MAKING
3) In a bowl, add the shortening and beat till light.
4) Add in the sugar and mix till light and fluffy.
5) Add in the egg and vanilla and beat well.
6) Combine and sift the flour and salt.
7) Add in the oats and stir into the creamed mix.
8) Blend well and refrigerate.
9) Form small balls out of the dough and coat each with coconut.
10) Arrange on the baking sheet.
11) Using the handle of a knife, form a dent in the top of each ball.
12) Place in the oven at 300° F and bake for 25 to 30 minutes.
13) Cool on a wire rack.
14) Mix together the prunes and sugar.
15) Gently cook, stirring constantly, till the mix thickens.
16) Refrigerate.
17) Place a spoonful of prune mix in the hollow of each cookie.

SERVING
18) Serve as a snack.
Image Courtesy :
http://commons.wikimedia.org/wiki/File:Thumbprint_cookies_before_baking,_September_2009.jpg