»

Recipes

»

Bean

»

Black Bean Pizza
Black Bean Pizza Recipe
Tomatoes and cheese give this bean pizza traditional pizza flavor.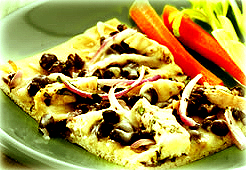 Summary
Preparation Time
17 Min
Cooking Time
45 Min
Ready In
1 Hr 2 Min
Difficulty Level
Easy
Health Index
Average
Servings
14
Ingredients
Refrigerated pizza crust

10 Ounce

Onion

1 Medium

, chopped

Garlic

1 Clove (5 gm)

, minced

Vegetable oil

1 Tablespoon

Finely chopped zucchini

1⁄2 Cup (8 tbs)

Canned black beans

15 Ounce

, rinsed (drained)

Canned italian diced tomatoes

14 1⁄2 Ounce

(undrained)

Shredded mexican blend cheese

1 1⁄2 Cup (24 tbs)

(divided)
Nutrition Facts
Serving size
Calories 218 Calories from Fat 85
% Daily Value*
Total Fat 11 g17.3%
Saturated Fat 6 g30.1%
Trans Fat 0 g
Cholesterol 27.6 mg
Sodium 369 mg15.4%
Total Carbohydrates 21 g7.1%
Dietary Fiber 3.2 g13%
Sugars 1.4 g
Protein 10 g19.6%
Vitamin A 4.6% Vitamin C 8.9%
Calcium 17.7% Iron 9.8%
*Based on a 2000 Calorie diet
Directions
1. Press dough into a greased 15-in. x 10-in. x 1-in. baking pan. Bake at 425 degrees F for 4-6 minutes or until crust just begins to brown.

2. Meanwhile, in a skillet, saute the onion and garlic in oil until tender. Add zucchini; cook and stir for 1 minute. Add the beans and tomatoes; bring to a boil. Boil, uncovered, for 2 minutes; drain. Sprinkle 2/3 cup of cheese over crust. Top with bean mixture and remaining cheese. Bake 8-10 minutes longer or until crust is browned and cheese is melted.