»

Recipes

»

Frosting

»

Black Walnut Fudge Frosting
Black Walnut Fudge Frosting Recipe
Black Walnut Fudge Frosting is a delicious recipe that you would love to prepare on a get together. Try this Black Walnut Fudge Frosting; I am sure you will have a huge fan following for this!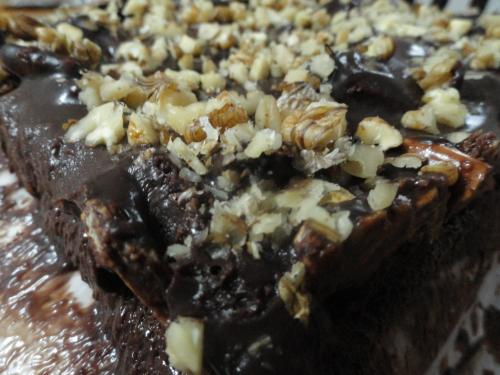 Ingredients
Brown sugar

1 1⁄2 Cup (24 tbs)

, packed

Granulated sugar

3⁄4 Cup (12 tbs)

Salt

1⁄4 Teaspoon

Milk

1⁄2 Cup (8 tbs)

Corn syrup

1 1⁄2 Tablespoon

Butter

2 Tablespoon

Vanilla extract

2 Teaspoon

Chopped black walnut meats

2⁄3 Cup (10.67 tbs)

Light cream

2 Tablespoon
Nutrition Facts
Serving size: Complete recipe
Calories 3298 Calories from Fat 1288
% Daily Value*
Total Fat 145 g222.3%
Saturated Fat 31.8 g158.9%
Trans Fat 0 g
Cholesterol 109.1 mg
Sodium 578.9 mg24.1%
Total Carbohydrates 492 g164.2%
Dietary Fiber 16.9 g67.7%
Sugars 463.1 g
Protein 33 g65.5%
Vitamin A 23.4% Vitamin C 0.3%
Calcium 27.5% Iron 32.3%
*Based on a 2000 Calorie diet
Directions
1. Combine the sugars, salt, milk and syrup in a saucepan, bring to a boil, stirring constantly, and boil rapidly until the mixture reaches 234° to 238° F. (syrup forms a soft ball in cold water).
2. Remove the syrup from the heat, add the butter and cool without stirring.
3. Add the vanilla and beat with a spoon until the frosting is as thick and creamy as fudge.
4. Stir in the nuts. Add the cream, a teaspoonful at a time, beating until the frosting is the correct consistency to spread on a cake.